Meet Molly, a senior dog who loves to follow her nose. She's a loyal companion who enjoys exploring new scents and snuggling up for a good nap. Despite her age, Molly's spirit is strong and she's always up for an adventure. She's very gentle and likes to be next to her people.
She is a wonderful old lady looking for someone to provide her with a consistent bathroom routine. With her gentle demeanor and calm presence, Molly is a joy to have around.
We believe with a proper slow introduction Molly should do well with another dog in the home. We recommend a dog meet in shelter prior to adoption. Since Molly came to us as a stray, we aren't sure how she would do with cats. We believe she would do well as long as she is given time to adjust.
She is a natural when it comes to kids. She has a playful spirit and a gentle nature that make her the perfect companion for little ones.
Molly is a 9-year-old female-spayed pit bull terrier.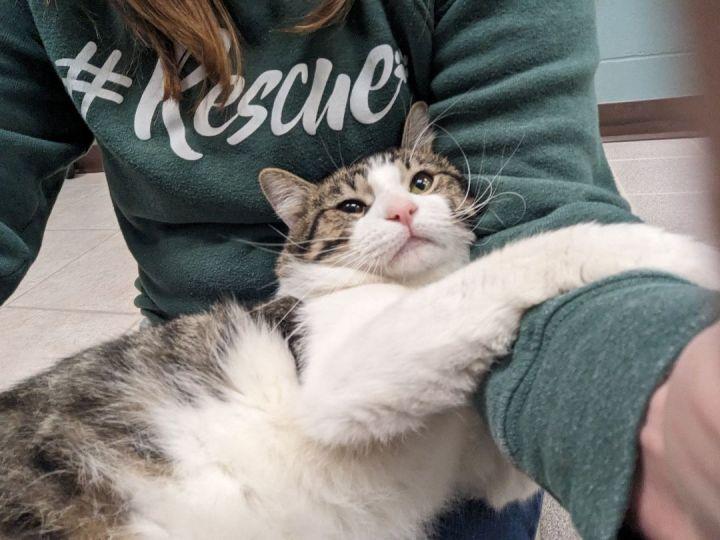 Scotty is the most perfect guy that you've been looking for. This big, handsome man loves nothing more than being right next to your side at all times — or directly in your lap if you allow him.
He absolutely adores pets and cuddles with his favorite people and will freely offer you hugs and headbutts. When he can't be right next to you, he can be a curious guy at times and likes to explore his surroundings or bat around his toys. During the day when you aren't around though, he is also perfectly content with finding a nice cozy spot that he can call his own to cap nap in or simply observe what is going on around him.
Scotty is a sweet and lovable guy but he does get a bit mouthy at times when he's overstimulated, especially while playing, so he is looking for a home with slightly older children at least 5 years of age or older who can help redirect his eagerness when needed.
He should do OK with other pets in the home given slow and proper introductions. Scotty is an 8-year-old neutered male. He is current on his vaccinations, microchipped, and FeLV negative.
If interested in these or any of the many other animals available for adoption at the Coulee Region Humane Society, fill out an application on our website www.couleehumane.com.