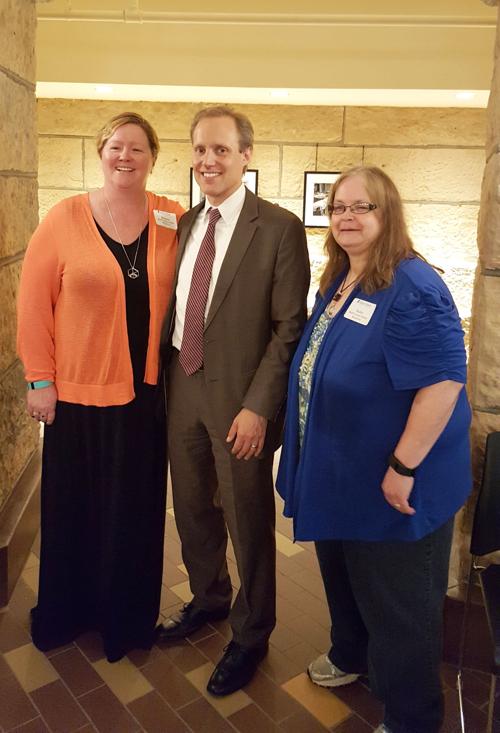 Rosanne St. Sauver believes that no one should live in fear, especially when engaging in routine activities like picking up the mail.
"Everyone deserves the right to be safe at home," she said.
This is evident by her work with Minnesota Secretary of State Steve Simon's Safe at Home program.
The executive director of Bluff Country Family Resources and her staff were honored June 22 for their participation with the Safe at Home program.
Safe at Home is a secretary of state program that guarantees address confidentiality. Those enrolled use a P.O. Box as their legal address for personal safety issues.
St. Sauver and another trained application assistant at Bluff Country Family Resources, headquartered in Hokah, have kept their position active in Safe at Home since it was founded in 2007.
"Safe at Home plays a critical role in helping protect victims of domestic violence and other Minnesotans who fear for their safety. It would not be possible without partners like Bluff Country Family Resources," Simon said. "I'm proud to recognize the hard work and dedication of these application assistants who have helped enroll participants in the program over the last 10 years. They represent Safe at Home on the front lines every day and allow participants to go about their daily lives without risk of the person they fear discovering their physical address."
The program protects those facing safety issues in the form of abusers and stalkers, as well as those who want to keep their address private for professional reasons like psychologists or government employees.
"I think it's a really instrumental tool to increase safety," St. Sauver said. "It helps people feel safe. It eliminates a lot of the harassment. It makes it harder for an abuser to have access to a victim."
According to St. Sauver, when women or men leave an abusive partner that period of time poses the highest risk for a dangerous reaction.
The program allows those who are enrolled to keep their address private even in court records, voting records and on their driver's license.
If someone wants to enroll in Safe at Home they must meet with an application assistant in person to discuss their safety concerns. The application assistant will then work with them to determine if enrolling in Safe at Home is the best step for the person.
There have been almost 6,000 people enrolled in Safe at Home in Minnesota since 2007.
"At first we had some difficulty because Wisconsin did not have a similar program. A lot of people will move to La Crosse to get a fresh start. They are now eligible to do the program in Wisconsin also," St. Sauver said.
Wisconsin implemented their version of Safe at Home in April 2017 and Iowa implemented their program in January 2016.
"This program helps people to stay safe," St. Sauver said.
Be the first to know
Get local news delivered to your inbox!