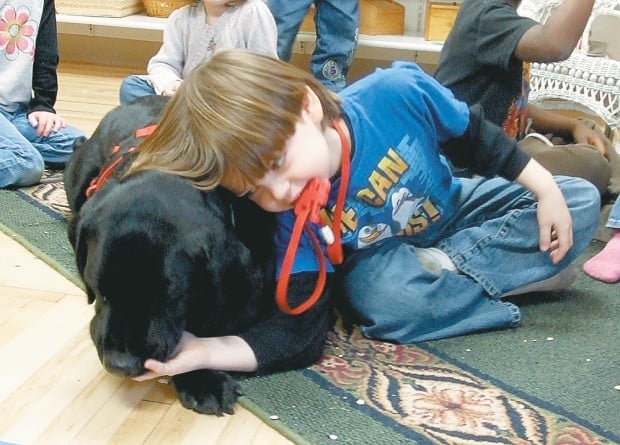 Five-year-old Caden Butler Modaff rubbed his fingers around the ears of Elf, an English black lab.
Caden was feeling a bit overwhelmed by the snack time chaos at school. The feel of the fur on the boy's finger tips was just what he needed to calm down.
Before Elf, that chaos could have caused a meltdown. But the autism service dog helps calm Caden.
Parents Jennifer Butler Modaff and Dan Modaff of La Crescent got Elf for their son in August. He seemed to be the best option in all their research.
So far, it's proven to be right. Before he was two, Caden lost all of his vocabulary besides two words: Uh-oh and daddy. He was diagnosed with autism and sensory process disorder, meaning lights are brighter, sounds are louder and he's more sensitive to touch.
"It seemed like the whole world stopped," Jennifer said. "We didn't know much about it or what the future would hold."
The couple sat in the car and cried after hearing the news.
But they dried their tears and started researching.
They saw dozens of options, trying some and disregarding others. They landed on service dogs, something that would address each of their concerns.
They got 20-month-old Elf from 4 Paws for Ability in Xenia, Ohio, an organization that places service dogs with people who have disabilities.
In Caden's case, Elf is an autism service dog.
"Elf is a constant for Caden," Jennifer said. "We can't always be there. We wanted something to always be there with him."
And that's just what Elf does. He's there during school, at the hospital and sits nearby as Caden sleeps at night, something that has since gotten Caden to keep sleeping in his own bed.
"He's an amazing resource for Caden," Dan said. "He wants Elf there at all times."
Elf has made Caden especially popular at school, as every child wants to pet the soft black fur, but must ask Caden's permission first.
The dog has decreased Caden's meltdowns and makes him feel safe when he's upset.
It's the first service dog La Crescent Montessori and STEM School has had. He started coming full-time in January.
And the kids love having him, said Caden's teacher, Melissa Johnson.
"The kids are very high energy," she said of the
24-student room. "If they sit next to him and pet him, it's calming at any time."
Johnson has seen the dog keep Caden more on track in his work and watches as the dog quickly calms him down when stressed.
Elf seems to be more of a service dog to whoever needs him at the time, Dan says, though if Caden lets out a whimper, Elf rushes to his No. 1 priority.
Having a service dog in the classroom helps expose the kids to something a little out of the norm, Johnson said.
"It's a good experience for them," she said. "It helps make it seem not so different and scary. ... It gives them a broader vision of people with differences."
To Caden, Elf is more than just a helping hand, his parents say.
Elf is the only one who gets spontaneous hugs, kisses and "I love yous" from Caden.
If Caden trips over Elf, he apologizes and means it.
The little boy says Elf is his "bestest friend."
Be the first to know
Get local news delivered to your inbox!