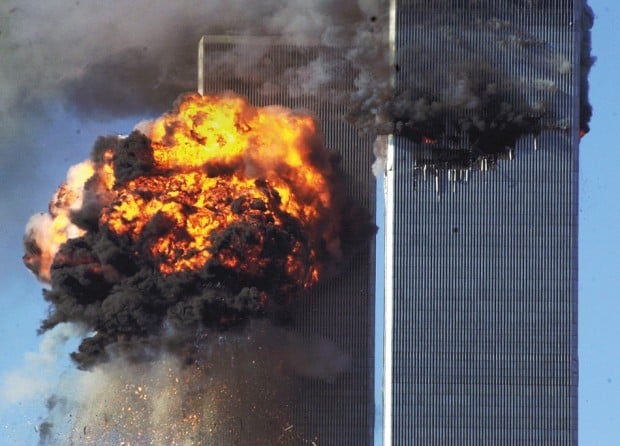 The morning of Sept. 11, 2001, started as a normal day for many. People got up, went to work or school and began their daily routines.
But that quickly changed at 8:46 a.m. EST when a plane flew into New York's World Trade Center. The nation became awestruck as the rest of the day's events unfolded during the 9/11 terrorist attacks, and Jackson County was no different.
Sunday marks the 10-year anniversary of the al-Qaida-orchestrated attacks that led to the deaths of about 3,000 in New York City, at the Pentagon and aboard a fourth hijacked plane that was downed in rural Pennsylvania. Local communities weren't untouched by the events of the day or the weeks and months following.
Leaders emerged to maintain order. Emergency departments became more watchful. Patriotism and generosity quickly surfaced. And even fear became more prevalent.
"I think, at that point, where we might have been standing flatfooted before, we were standing on our tippy toes," said John Elliott, who was the Jackson County Emergency Management coordinator at the time of 9/11.
"There was an important and profound effect on emergency management as well as other areas."
Melrose-Mindoro School District Superintendent Ron Perry remembered 9/11 as an uncharacteristic day of silence. The sound of television broadcasts filled the schools instead of the voices of teachers and students.
"It was very quiet," Perry said. "I think the kids were concerned.
"I think the kids generally felt safe at school, but there was that insecurity — that insecurity that somebody may have attacked our country."
Steve Schreiber was head of Black River Falls EMS 10 years ago. He and crew were out for their daily morning cup of coffee at a cafe when they received a call to return to the station.
Emergency personnel hovered around a television as the news unfolded. Schreiber recalled seeing one of the towers go down soon after firefighters and EMTs arrived and went inside.
"We knew we had lost brothers and sisters of emergency services," said Schreiber, who now is the Black River Falls fire chief.
"You could see people jumping out of buildings. It was just shock and disbelief."
Schreiber said it was difficult to know exactly what was happening early on because events and news reports were changing rapidly. After the federal order to shut down airspace was given, he said the EMS department discussed alternatives in the event of an accident that required a patient to be airlifted. Other than that, he said all the department could do was remain on standby and watch the news.
"I think we were almost like everybody else — shocked that it happened and happened on American soil," Schreiber said. "Nobody really knew what was going on. We got updates, but everybody was in limbo."
It was no different in Merrillan. Then-Village President Ray Ransom was in his insurance office when he first heard the news on TV, and he quickly called his wife at the Black River Falls School District.
"I was pretty well glued to that TV most of the morning," said Ransom, who served as president from 1997-2010. "I was in the same sort of shock and disbelief that 99 percent of Americans were in — I couldn't believe it.
"I think basically everybody was in a state of almost disbelief that this could happen in our country — that we could sit here in the village of Merrillan and we could actually watch this happen."
Then-Ho-Chunk Nation President Troy Swallow was in the his office when someone told him the news about a plane striking the World Trade Center. The former Marine said he knew it wasn't an accident, and he was able to see the second tower go down on TV when he made it to the Ho-Chunk Legislature.
Swallow went to Tomah for a prearranged meeting with Department of Administration personnel, but that was cut short and he returned to Black River Falls. Upon his arrival back, he said his office was flooded with calls about what the Nation — a sovereign entity — should do.
"I was inundated by calls: 'Should we shut down?' 'Should we close down our casinos?'" Swallow recalled. "People were in absolute panic, and they were so overwhelmed."
Swallow, who served from 2001-03, said shutting down was never an option. He said his goal was to maintain composure and keep business running as smoothly as possible.
In fact, he remembers Ho-Chunk gaming sites actually saw a slight increase in business on 9/11 — something he attributes to some people just wanting to take their minds off the attacks.
"I said, 'We stay open,'" Swallow said. "I said, 'I can guarantee that even though we have bright neon lights, we are the safest place in town.'
"We were not immune (to the attack on the United States). I didn't want to panic and I didn't want to overreact, but I look back now and I wonder how I didn't do that and freak out or flip out. I just thought it was right to go about our business and see what happens."
Perry said administrators didn't discuss closing schools or moving kids. He said TVs were on in every classroom as staff and students watched the news, and some classes even held discussions.
"We probably spent more time on it afterwards teaching and discussing than that day or the following day, but we taught through the day," he said. "We even rolled a TV into the lunchroom, and they were intently watching."
The Black River Falls National Guard Armory's threat level was raised and public access was restricted, but otherwise county and city services were not affected by the events of 9/11. Elliott was at the Black River Falls Police Department with then-Police Chief Don Gilberg when he first heard the news. He said he went back to his office and contacted local emergency and law enforcement agencies and later was in touch with the state Division of Emergency Management and federal officials.
Elliott said Jackson County was not a prime target for a terrorist attack like areas with larger populations or facilities. However, he said local officials did become more vigilant on keeping an eye on areas such as the Hatfield and Black River Falls dams as well as Jackson Correctional Institution, a state prison.
"I think if we had a large federal facility or military presence, we might have taken steps to do a better job of guarding them, but in essence, we just took steps for being more vigilant," Elliott said. "We contacted the courthouse and we told everybody to be more vigilant.
"I think it was just a general higher state of alert and for everybody to be more vigilant."
Ransom also noted small communities like Merrillan wouldn't be prime targets for terrorists, but he did note village officials met soon after 9/11 and discussed and implemented ways to protect its water sources.
"In a village like ours, there's not much of a target except the water towers and our water supply," he said. "As a village, we did have some thought and had some discussions that followed the post-9/11 stuff about possible terrorist attacks."
Elliott said emergency and other public departments had to take on more responsibility as the nation entered an era of chemical and biological warfare. The public health department even became more critical in planning and response.
"The public health department never thought of itself as an emergency response department, but that changed," Elliott said. "Other response areas — EMS, fire, police — had to assume greater roles in terms of response to chemical-, biological- and radiological-type attacks.
"We also were very much aware of the fact that we are in between Minneapolis, Madison, Milwaukee and Chicago, and a lot of stuff does go up and down our highways (and the interstate)."
The events of 9/11 spurred a quick response of national pride. Flags stood at half-staff, but there also was a strong sense of patriotism that came forth.
"It was good to see the red, white and blue afterwards," Schreiber said.
A spontaneous prayer service was held in front of the Jackson County Courthouse on Sept. 14, 2001, and over 100 people attended. Some groups and organizations held special fundraisers to raise money for the victims of 9/11 and to help with relief efforts.
Schools also held special events. Mel-Min High School held a moment of silence on Sept. 14 as well, and Mel-Min Elementary displayed a "United We Stand" message on the building's doors.
Perry said the school district holds special events each year to commemorate 9/11.
"Each school does something different but there's a recognition tribute every year," he said.
The Black River Falls Fire Department held a memorial services in 2002 to mark the one-year anniversary, and they'll hold a similar service on Sunday to mark 10 years.
The Ho-Chunk Nation also contributed toward national efforts, and a Ho-Chunk later composed a pow-wow song in honor of the 9/11 events.
"It doesn't take too long if there's a national effort as far as fundraising," Swallow said. "We normally participate whether we donate money or supplies."
Post-9/11 also brought about some local negative incidents, including bomb scares and anthrax reports.
Four threatening notes over the next month and a half were found at schools in the BRF and Mel-Min school districts, causing school evacuations.
The first was found Sept. 24, 2001, at Black River Falls High School when a message was found in a girls bathroom that read, "This school shall explode at noon Sept. 28. We shall all perish for bin Laden our hero!" The note actually caused the school to be evacuated twice because it originally was read that a bomb would explode Sept. 25.
Another bomb threat was later found at BRFHS, and a third for the district was discovered on a wall at the middle school. A suspect was apprehended in the latter incident and was referred to the district attorney's office.
A bomb threat was left on a computer screen at Mel-Min Junior High on Oct. 2. An eighth-grade girl later admitted to typing the message as a joke but forgot to delete it; she was expelled.
In addition, there were over two dozen reports of anthrax in Jackson County following 9/11. Elliott said none of the white powdery substances turned out to be anthrax, but officials had to take every instance seriously.
"Fortunately none of those things turned out to be actual anthrax, but you don't know that going in," he said.
The events of 9/11 also put a strain on the relationship between the Ho-Chunk Nation and state and federal governments, according to Swallow. He said it was difficult to get answers and updates, and post-9/11 conversations indicated there weren't adequate plans in place to address how Native American tribes fit into emergency management.
"To me, it was an eye opener," Swallow said. "When we started to find out with emergency management where we were at on the pecking order ... the Ho-Chunk Nation, along with many other tribes, found that we were way low on the list.
"Who was going to make sure someone wasn't taking bison from our ranch or stealing our fuel (from our gas stations)? I wasn't really getting a warm, fuzzy feeling at the federal level."
Swallow said 9/11 has since given the Nation resolve to be more self-sufficient.
"I think there was a lot more of an internal hardship among ourselves on where we stood — where we should have stood and where we stood," he said. "My stance was that the only one looking out for us is us. We need to use all of our self-determination.
"That wasn't something I designed or created, so in that regard, on a personal level, it may have helped the tribe greatly."
Post-9/11 brought about changes nationally and locally. Schreiber recalled getting on an airplane the following October for a trip into Washington, D.C., and said the rules were extremely strict for when passengers could move about.
Elliott, who stepped down from his post in 2007, said additional training post-9/11 brought about more planning exercises, such as those with schools. He said emergency departments began to include training to deal with terrorism threats.
"I think we all knew we'd be working together during tornadoes and floods but not so much on what to do with terrorism," he said.
Elliott said his workload increased significantly as grant money also opened up, and he said his office for some time never had fewer than 12 grants on which it was working. The county used the anti-terrorism and preparedness grants to purchase items such as radios, generators and hazardous material-resistant suits.
"We sat down with every agency and decided what to do with the money," he said.
Events remembering 9/11 and the lives lost also have become regular occurrences, whether it be on a national level or on a local level.
Schreiber said it's important to not forget — no matter how many years after Sept. 11, 2001.
"We just think it's an important thing that should be remembered and not forgotten," he said.