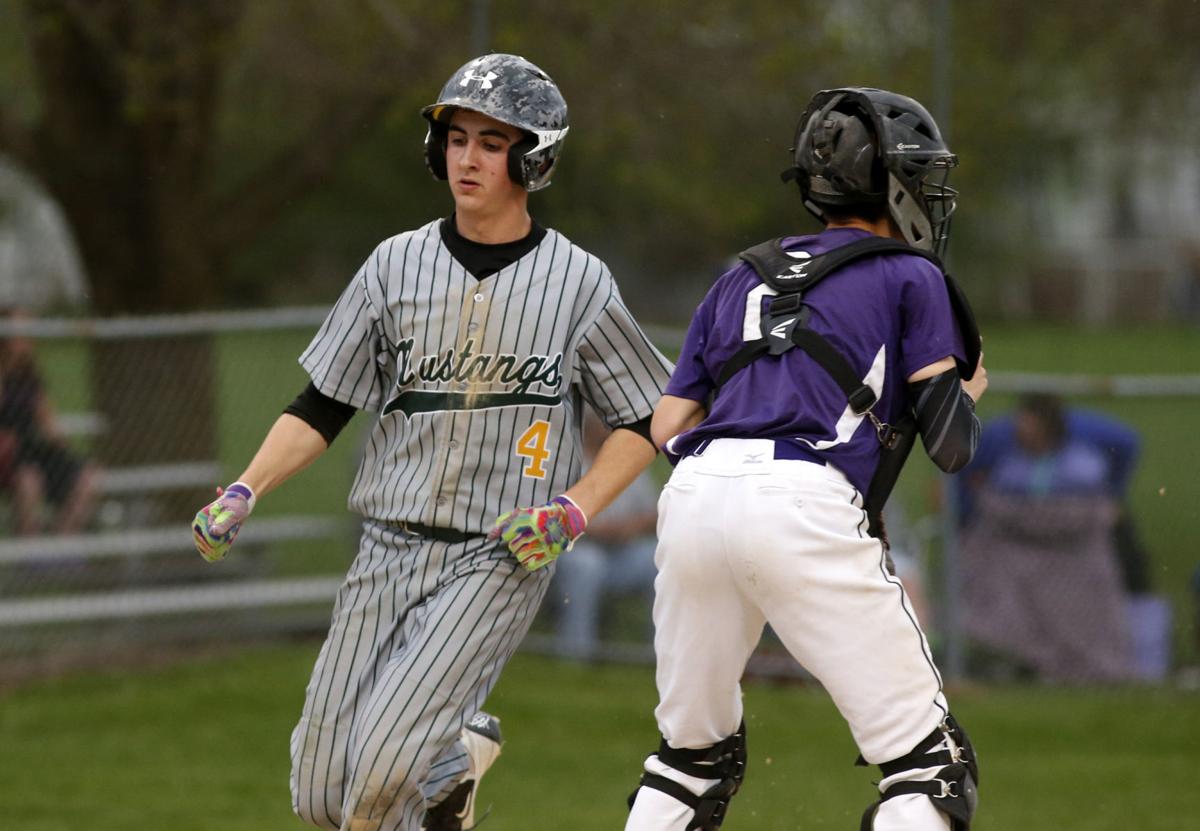 The Melrose-Mindoro High School baseball team, like many baseball teams in what was a very late spring, has taken some time to find its groove. Joey Arneson's team, however, has done just that.
The Mustangs beat Augusta 4-3 on Tuesday, May 8, for their third straight win to even their Dairyland Conference record at 3-3, and push their overall mark to 4-3. The Mustangs beat Whitehall 5-1 on Monday, May 7, and Onalaska Luther 3-0 on Friday, May 4.
Melrose-Mindoro, which was in fourth place in the Dairyland Conference — trailing Eau Claire Immanuel (6-0), Independence/Gilmanton (6-0) and Cochrane-Fontain City (3-2) — entering Thursday, May 10 games, hosts Alma Center Lincoln on Friday, May 11, then travels to Blair to face Blair-Taylor on Tuesday, May 15.
Melrose-Mindoro 5, Whitehall 1
The Mustangs used a fifth-inning rally to beat the Norsemen on May 7. The Mustangs earned all five runs in the fifth, thanks in part to three singles and a two-run double from Drew Blaken. Brett Gerdes (2-for-3) and Trent Hale (2-for-3) had two hits apiece.
Dawson Rommel tossed a three-hitter with five strikeouts and two walks to keep Whitehall at bay.
Independence/Gilmanton 13,
Alma Center Lincoln 0 (5)
ALMA CENTER — Independence/Gilmanton, which ripped 12 hits, ended the Dairyland Conference game in five innings on May 8. Zander Toczynski doubled for the Hornets (4-3, 2-3). Tozcynski took the loss, striking out three and walking two.
You have free articles remaining.
BLACK RIVER FALLS — Westby finished with five hits and no errors to win Game 1 of a Coulee Conference doubleheader against Black River Falls on May 8. The Norsemen held on to a 1-0 lead until the third inning where it made it 4-0. Kyle Larson tossed a three-hitter with four strikeouts to earn the win. Westby used a two-run first inning to grab an early lead in Game 2.
Westby 3-15, Black River Falls 2-7
WESTBY — Molly Stenslien earned two wins with a combined seven strikeouts and two walks for Westby on May 7. The Norsemen tallied 16 hits to come out on top in Game 2. Kenzie Von Ruden went 3-for-5 with an RBI as four other contributed with two hits apiece.
Sparta 4, Black River Falls 3
The Spartans won three of four singles matches to inch past the Tigers. Things were tied at 3 heading into the No. 2 doubles match, but Jacob Johnson and Torjus Ydstebo defeated Jared Laufenburg and Nash Voge 6-4, 4-6, 6-2, to hand Sparta the win.
Sparta earned a win from Partick Wagner at No. 1 singles as he defeated Ben Bluedorn 6-1, 7-5. Nathan Thompson (8-1) came out on top in a No. 2 singles match against Sam Lund as he finished 6-1, 6-1.