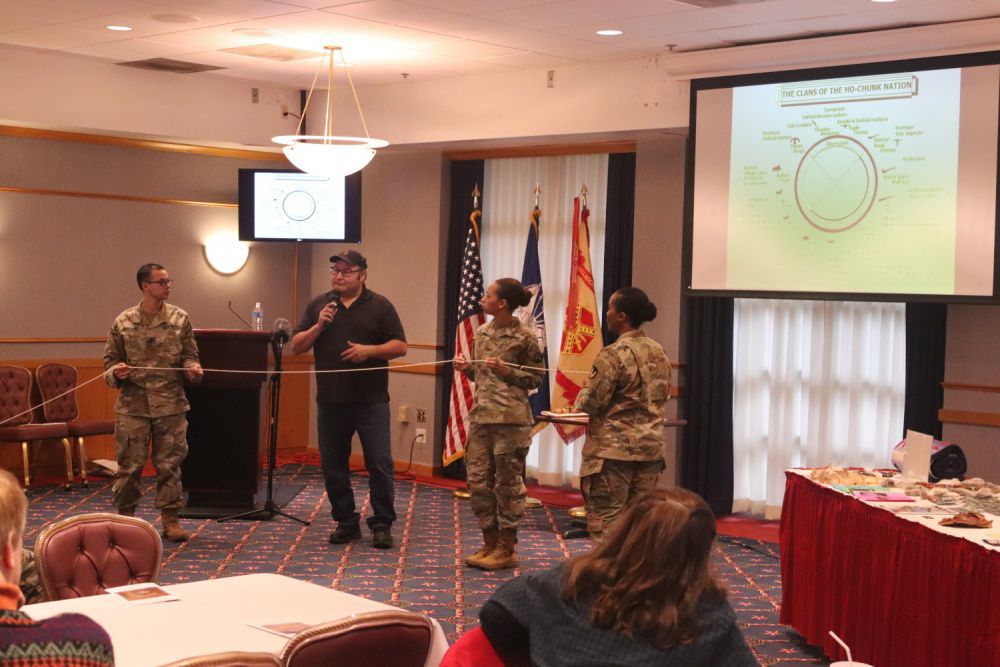 Fort McCoy celebrated Native American Heritage Month on Nov. 21 with a presentation on the history and heritage of the Ho-Chunk Nation at McCoy's Community Center.
William Quackenbush, tribal historic preservation officer for the Ho-Chunk Nation, was the guest speaker for the event.
Quackenbush spoke about the Ho-Chunk's history and their connection to their ancestral lands, which stretched over much of what is now southern Wisconsin, including Fort McCoy, and parts of Illinois and Iowa. According to Ho-Chunk oral history, their first village was Red Banks, situated near modern-day Green Bay.
Like many Native American peoples, the Ho-Chunk were targeted for removal in the 18th and 19th centuries. Starting in the 1830s, the Ho-Chunk were relocated to Nebraska. While some of their members stayed, splitting into the modern-day Winnebago Tribe of Nebraska, others kept returning to Wisconsin.
"Every tribe east of the Mississippi had the same issue. They were moved from their ancestral areas that they were comfortable (with) and moved to places that were so desolate because they could not find another use for these lands," Quackenbush said. "Farmers didn't want it.It was too wet or too dry," he said. "They didn't have anything to sustain life, and that's where they placed us. And that's why we kept coming back to Wisconsin."
You have free articles remaining.
The Ho-Chunk finally managed to stay in their ancestral lands by using the 1862 Homestead Act to purchase sections of the land, according to wisconsinfirstnations.org.
Like many First Nations, the Ho-Chunk are focused on language renewal and revitalization, as well as teaching about their culture and traditions. The Ho-Chunk people's preferred method for teaching their children and sharing their stories is through oral history, Quackenbush said.
"We keep our culture and heritage alive for our children − perhaps by telling this story, so we don't have to repeat history," Quackenbush said.
Native American Heritage Month is celebrated each November to recognize the significant contributions the first Americans made to the establishment and growth of the United States, according to nativeamericanheritagemonth.gov.
In 1990, President George H. W. Bush approved a joint resolution designating November as "National American Indian Heritage Month." Similar proclamations, have been issued each year since 1994.
The event was organized by Fort McCoy's Equal Opportunity office.