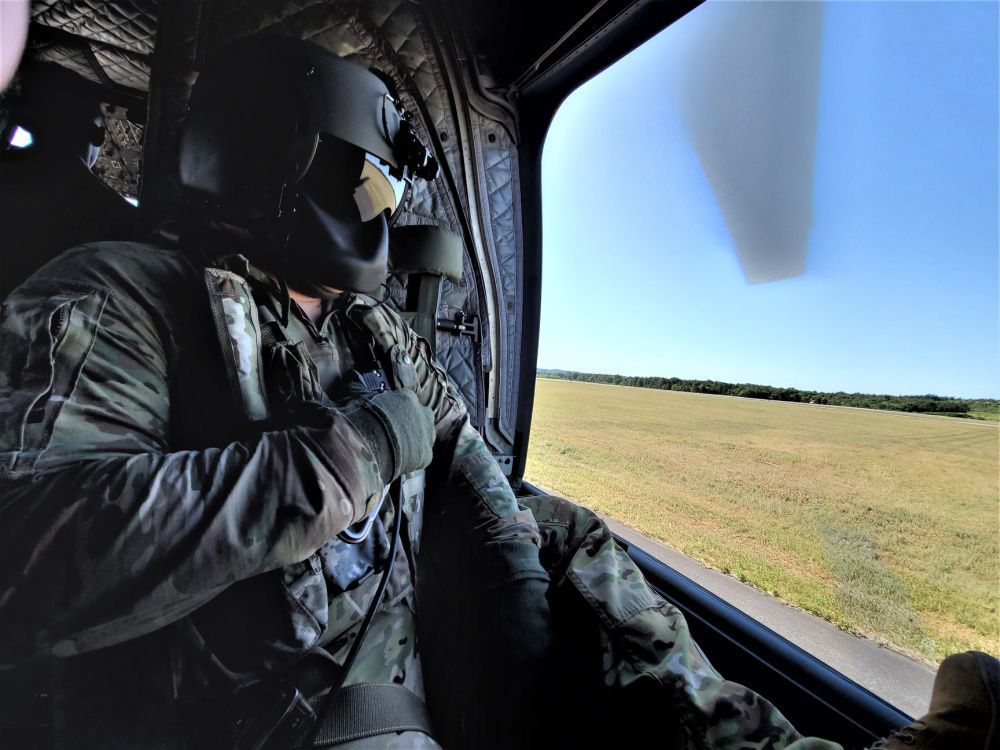 For the 35th consecutive year, more than 100,000 troops have trained at Fort McCoy as 125,166 service members completed training on post during fiscal year 2019.
Training statistics reflect many types of training opportunities that take place at the installation by active- and reserve-component forces and other governmental agencies, said Directorate of Plans, Training, Mobilization and Security Training Division director Brad Stewart.
The numbers were lower than FY 2018's total of 148,733 because several Army National Guard units that usually conduct training at Fort McCoy were sent on deployments to areas of the world where the Army supports numerous ongoing operations, Stewart said.
During the year, training included two Combat Support Training Exercises by the 86th Training Division, the Air Force-centric Patriot North exercise by the National Guard Bureau, Global Medic, Diamond Saber, Operation Cold Steel, Cold-Weather Operations Course, battle drill (weekend) training, annual training, mobilization, institutional training, and numerous other exercises.
DPTMS personnel document the training statistics each month of the fiscal year, Stewart said. It involves combining numbers of the entire transient training population, which encompasses reserve- and active-component military forces as well as other training agencies, such as law-enforcement agencies or the Wisconsin Challenge Academy.
The FY 2019 training statistics were split between extended combat training and battle drills. The ECT total for the fiscal year was 68,812, which includes institutional, civilian, and law-enforcement training and major exercises.
The battle drill weekend training total for FY 2019 was 56,354.
You have free articles remaining.
Stewart said that 35 years of 100,000-plus troops training at the post every year shows the installation workforce's ability to be flexible with the changing missions throughout the Army and the Department of Defense. During the year, for example, the installation team also supported the return of the mobilization mission as the 348th Engineer Battalion mobilized on post for a deployment.
"Even though inactive, we are now, once again, a mobilization force generation installation − one of only nine in the Army − and we supported the mobilization this past summer in addition to all our other transient training customers and requirements," Stewart said. "The support our installation provides our training customers is well known. Our customer service is excellent because our workforce regularly demonstrates that upper Midwest work ethic where we work with the customer to get to 'yes.' And everyone here, whether an Army civilian employee or a contractor, knows why they are here − to help our service members be successful in training and combat."
From Jan. 22 to Feb. 11, the Command Post Exercise Functional 19-10 was held at Fort McCoy by the U.S. Army Civil Affairs and Psychological Operations Command. Deputy Commanding General of USACAPOC Brig. Gen. Jeffrey C. Coggin of Fort Bragg, North Carolina., said he appreciated what the installation support team did for them during their exercise.
"This (was) my third CPX, and I'd have to say this is the best location of the ones that I've experienced because the way that it's laid out," Coggin said. "We're not competing against a lot of other units. We're not competing against a limited amount of assets. Fort McCoy has really supported us extremely well. It's been spectacular how they've really done that. There (were) other units training here, but we had the run of the place, and everyone supported us well. The infrastructure, housing, feeding and taking care of our soldiers (was) great."
During Operation Cold Steel III at Fort McCoy from late March to early May, hundreds of troops trained with Task Force Fortnite. Task Force Commander Lt. Col. Greg Derner said gunnery crews trained day and night using several Fort McCoy live-fire ranges, and those ranges and training areas worked well.
"The ranges themselves are the best equipped, technologically, in the Army Reserve," Derner said. "Of the locations where they have conducted Cold Steel, McCoy is the best. Overall, the installation is well set up to do this."
For fiscal year 2020, Fort McCoy will continue to see high numbers of troops training on post, Stewart said. This will include numerous CWOC classes throughout the winter and three consecutive CSTXs in 2020.
"The installation will continue to be a year-round Total Force Training Center," Stewart said. "Even though we will continue to see the Army Reserve and National Guard support the Army's operational missions overseas, I think we will see some growth in the training numbers and exercises in 2020. Regardless of the numbers, the installation will continue to be busy as ever throughout the year, supporting our service members. That is what Fort McCoy and its stellar workforce do best."
Fort McCoy has supported the training of at least 100,000 troops annually since 1984. An annual-training record of 155,975 was set in fiscal year 2017.