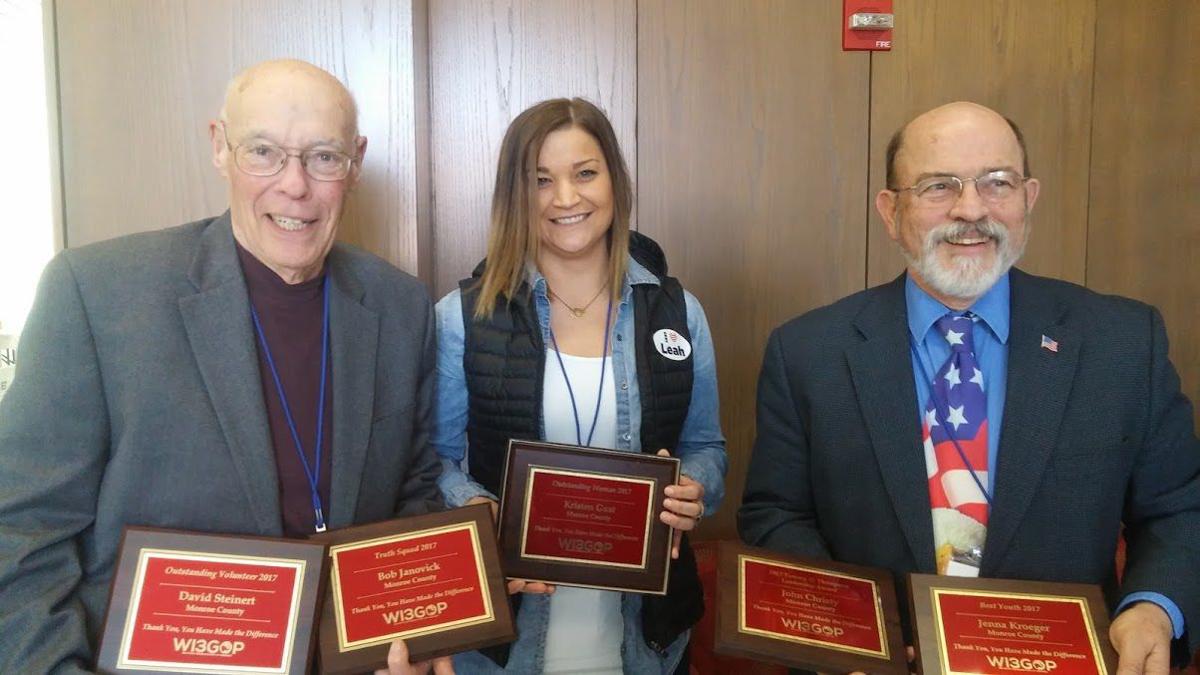 Five members of the Republican Party of Monroe County received personal recognition at the 3rd District Republican Party caucus in Eau Claire this past Saturday. The annual caucus is an opportunity for the party faithful to gather and receive reports, hear elected officials and party leaders, debate resolutions and celebrate achievements.
Kristen Gust of Sparta received the "Outstanding Republican Woman" award, which recognizes the outstanding contribution of a Republican woman to the Republican Party.
Bob Janovick of rural Sparta received the "Truth Squad Award," which recognizes an individual who "sets the record straight" by writing letters to the editor and speaking at government meetings.
Dave Steinert of Tomah received the "Outstanding Volunteer Campaign Worker," which recognizes someone who "goes above and beyond the call of duty" in helping to elect Republican candidates.
Jenna Kroeger of Sparta received the "Best Youth" award, which recognizes outstanding achievements of an activist youth, high school age or younger.
John Christy of rural Cataract received the Tommy G. Thompson Leadership Award for long-term leadership in the county Republican Party.
You have free articles remaining.
Janovick and Kroeger did not attend the caucus.
"Although I have only been chairman since January, it is a privilege to work with this team of dedicated individuals focused on promoting conservative values." said Doug Rogalla of Kendall, chairman of the Republican Party of Monroe County.
Other Monroe County delegates attending included state Rep. Nancy VanderMeer of rural Tomah and Matthew Hoffland, Todd Fanta, and Kevin Croninger, all of Sparta.
Monroe County also penned the recommendation for a sixth award, and state Rep. Ed Brooks of Reedsburg received the "Best Legislator Award." Brooks represents two towns and the village of Kendall in the far southeast corner of Monroe County.
The awards were based on both their participation within the Republican Party and their other activities in their communities. Chippewa County delegates received many of the remaining awards that were presented.
Governor Scott Walker addressed the group and commented on the April 3 spring election. He said Republicans will win in November with optimism and organization.
Nearly a dozen state legislators, including Sen. Patrick Testin, VanderMeer and Brooks, participated in a panel discussion sharing what was happening in Madison.
The caucus gave its unanimous endorsement of Steve Toft of Osseo as the Republican candidate for Wisconsin's Third Congressional District.