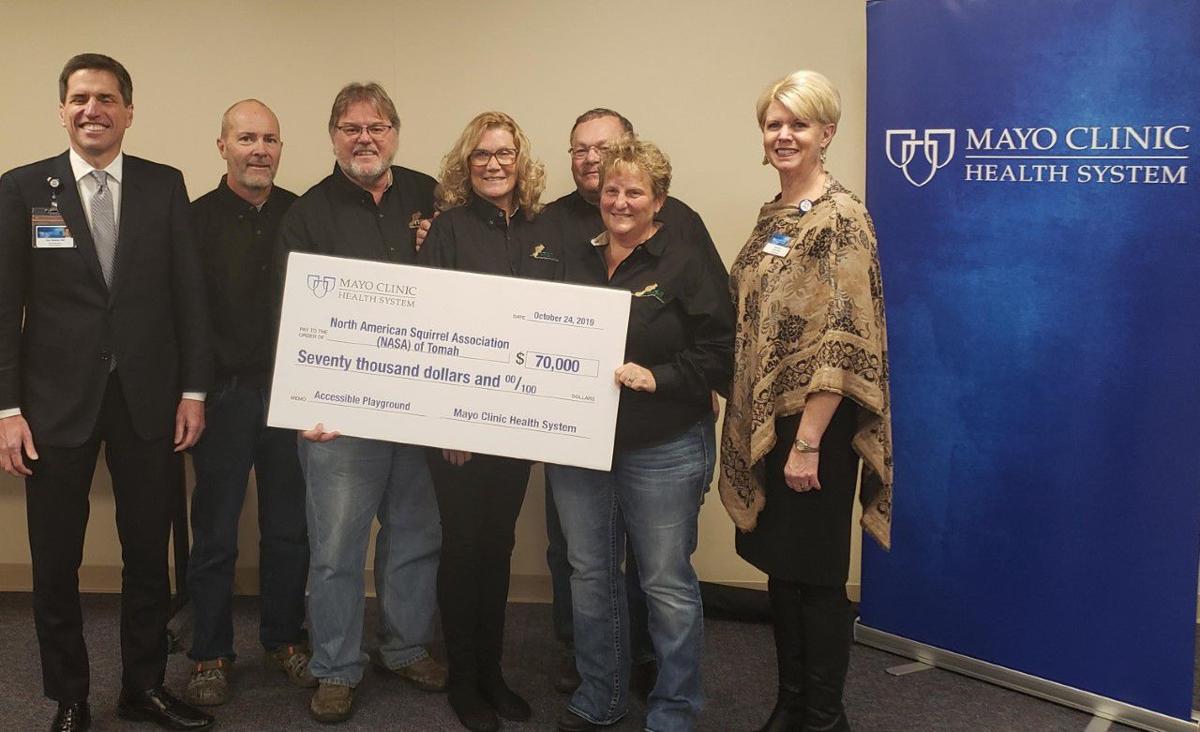 A handicap accessible playground on the shore of Lake Tomah got a boost when Mayo Clinic Health System awarded the North American Squirrel Association $ 70,000 to be used for purchasing playground equipment.
The Tomah branch of n.a.s.a. received the largest grant out of 12 groups that accepted grants. The Mayo Clinic Health System Inclusive Health and Recreational funding awarded $195,000 total to area groups for their initiatives to help disabled children.
Teri Wildt, Director of Community Engagement at Mayo, said, "I think the organizations receiving the funds do great stuff every day to make our region a great place to live, work, play, raise families, and I hope we're just doing a small part to help in that effort."
Wildt presented the checks along with Dr. Paul Mueller, regional vice president of Mayo Clinic, at a ceremony held Oct. 24 at Marycrest Auditorium in La Crosse.
You have free articles remaining.
"This donation is huge" said Bertie Dietzman, n.a.s.a. volunteer. "It puts our total fundraising for the playground at 50% of our goal and makes groundbreaking next summer a real possibility. We are extremely grateful to Mayo Clinic for their generosity and recognizing what this playground will mean, not only to Tomah, but to residents of western Wisconsin."
The accessible playground has a unique design that will allow wheelchair access to playground equipment. Accessible ramps will lead to specialized features like a wheelchair glide or cruiser and interactive play components. Able-bodied children will be able to play alongside disabled siblings and peers.
The playground is the final phase of an inclusive park located in Butts Park, a collaborative effort between the city of Tomah Parks and Recreation department and n.a.s.a. of Tomah.
"Our goal was to spread the dollars across our region, and we were thrilled receive a wonderful proposal from the Tomah community" Wildt said. "We are pleased and proud to support the inclusive park. It's a great project, and n.a.s.a. is a great group. Keep up the good work."
For more information about the accessible playground or to make a donation go to tomahsquirrels.org or call 608-343-4676. Donations may also be mailed to n.a.s.a. P.O Box 173, Tomah, WI 54660. All donors will be recognized on a large donor plaque that will be erected next to the new playground.