On Sunday. Aug. 18, First Congregational Church in Tomah is dedicating a special custom-made, all-weather bench to install in the front yard of the church facing La Crosse Street to honor the memory of Pastor Ed Stigen. It is etched and carved with tributes that will remind passersby of Pastor Ed, with deer, birds and trees (he loved God's natural world) and a line from his favorite psalm, the 139th. "Wonderful are your works."
Stigen was the minister at First Congregational Church for 26 years before he died two months after retiring,on April 30, 2018. But he was more than just the minister to the church. He ministered to his church family, friends and neighbors. He served the whole community with his outreach to the community's other churches, as chaplain at the Serenity House and ministering to grief groups. He took his turn calling bingo games at Handishop Industries. He held church services at local nursing homes. He stepped in and led funeral services for many who died without a minister to see them off. In short, he was a valued member of our community in so many ways.
Pastor Ed left behind special memories to those who knew him (well or maybe in passing) of his kindness, his caring, his gentle advice when needed, his sense of humor and, most of all, the genuine Christian love he showed for everyone.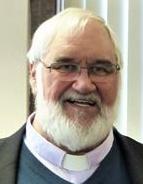 Register for more free articles.
Stay logged in to skip the surveys.
Pastor Ed was a minister but also a family man. He and his wife, Cathy, raised four young children to adulthood, attending their sporting events and their graduations. He went fishing with his son. As a minister and father, he performed three wedding ceremonies for his children, and baptized three grandchildren. (He sadly missed the arrival of his fourth, a granddaughter, Miley, last October.)
The memorial committee of First Congregational received many monetary gifts to honor Pastor Ed's life. What would be a fitting tribute to best reflect what he meant to his church and to Tomah? It chose the bench, a memorial for the whole town to enjoy, because he was truly a minister to his church and his community.
Pastor Ed is missed, yes, but he will long be well-remembered ... in our thoughts and as we take a few minutes to spend quiet time on the bench bearing his name.