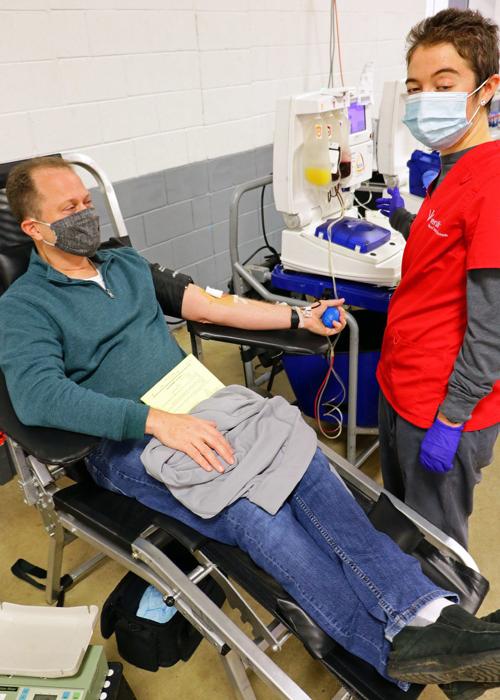 Dr. Jeffery Cavaness knows the importance of donating blood, especially when it could save one of his patients someday.
The Tomah Mayo Clinic Health System family medicine provider was one of 32 people who donated blood during a special one-day Tomah Health/Versiti BloodCenter of Wisconsin drive at Tomah's Recreation Park Oct. 20.
"I used to run blood drives when I was an undergraduate, and during my medical school training at Mayo I would donate as often as I could," Cavaness said. "We see a lot of use of blood in my daily practice and see how important it is to donate and make sure people have that available for them."
Because of his high hemoglobin count, Cavaness learned that he could make a double red cell donation, which allows donors to donate two units of red blood cells thereby giving more product that is needed most by patients.
"I've never done it before, and I know that it is critical to donate blood right now," he said.
A double red cell donation is similar to a whole blood donation, except a special machine is used to allow the donor to safely donate two units of red blood cells during one donation while returning plasma and platelets to the donor. Double red cell donation takes approximately 30 minutes longer than a whole blood donation and a person can donate approximately every four months.
Cavaness said supporting Tomah Health was another reason he donated.
"That is one of the reasons why I started to donate to Versiti," he said. "Knowing that (Tomah Health) gets their blood through Versiti, I figured that this is a good way to make sure my blood is going locally and maybe even to some of the people I take care of."
Versiti is the sole supplier of blood to nearly 50 hospitals in Wisconsin including Tomah Health.
Versiti account representative Emalea Cogdill said the special drive was successful, resulting in the collection of 91 blood products that will go to patients at community hospitals, including Tomah Health.
"If we had not thrown in this extra drive and had the commitment of the community and Tomah Health, those 91 units would never have been collected and received by patients," Cogdill said.
She said the impact of COVID-19 as flu season approaches could further create challenges to maintain a readily available blood supply for patients at community hospitals in need of life-saving treatments this fall and winter.
Tomah Health marketing and public relations director Eric Prise said despite COVID-19, donors continue to support the hospital.
"We continue to be thankful to the Tomah Parks and Recreation Department for use of the site for our blood drives and all the donors," Prise said. He said drives have been moved from Tomah Health due to continued COVID visitor restrictions at the hospital.
Prise said the next scheduled drive will be a two-day event Nov. 18-19 at Recreation Park.
Be the first to know
Get local news delivered to your inbox!