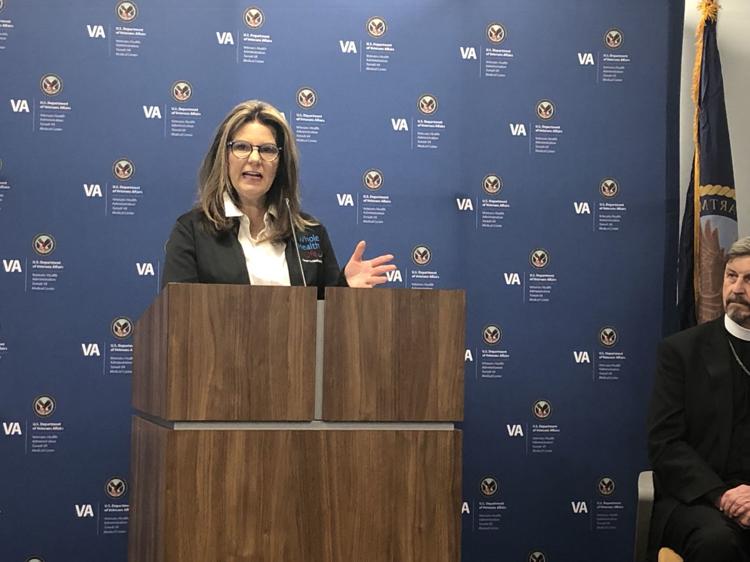 The Tomah VA Medical Center's Whole Health Integrative Wellness Center is now open.
The VA conducted a open house for the facility Saturday.
The wellness center has been a long time coming, said VA director Victoria Brahm.
While whole health integrative wellness (non-traditional therapies), has been running for a year throughout the Tomah VA campus, there is now a building where it can be conducted, Brahm said.
Some of the therapies offered at the wellness center include: battlefield acupuncture, healing touch, aromatherapy, yoga, biofeedback, pain university, healthy teaching kitchen, Tai Chi, wellbeats spin, mindfulness, drum circle, health promotion/disease prevention, whole health coaching and whole health/suicide prevention.
The therapies are meant to help veterans come full circle, Brahm said.
"It's all about whole life, and owning your life, fixing what matters to you and finding ways to adapt that to the life that you live so you have the optimal life that you deserve," she said.
The idea of whole health wellness began three years ago after Jason Simcakoski died from drug toxicity at the VA, said Renee Oshinski, VA deputy undersecretary for Health Operations and Management. She said the VA needed to change the way it delivered care to veterans.
"We needed to think more about putting the veteran at the center of what we were doing, not necessarily trying to cure all their ills but helping them figure out what they wanted and to help them achieve what they wanted to achieve in life," she said. "We can't do that just by doling out medication. We needed to ... talk to the veteran, talk to their family, and understand what they needed and offer them a range of options for how they pursed their search for wellness."
Brahm said it's important that alternative therapies and methods of care be available to veterans to control their pain − not just opiates and benzodiazepines, Brahm said.
"So what we decided to do was to be able to create adjunct therapies that could be integrated — traditional and non-traditional, to help veterans live the most optimal, healthy, positive lives that they could and not be dependent on just medication as the only source of cure or relief," she said.
Brahm said she's passionate about the program. She has been employed by the VA for 38 years, and her father and six brothers were all military men.
"This is an opportunity for us to give back ... make people more whole and have them take charge of their life," she said.
Since the program began, 6,000 veterans have taken part, and the response has been awesome, Brahm said.
"I won't lie, there are veterans who come in and say 'what, aromatherapy?' But we have story after story after story of how this works," she said. "As we've been doing this, more and more veterans have been coming forward, and more than 6,000 in one year is pretty dramatic, and we are breaking the doors down."
Bernie Walsh, a retired sergeant in the Marine Corps, said the therapies saved his life after he injured his shoulder at work a few years ago. Before coming to the VA, Walsh said he thought of ending his life numerous times due to the pain.
"Physically and mentally (VA staff) laid hands on me and said 'you matter;' it made all the difference in the world," he said. "I'm glad somebody had the foresight to do these crazy ideas and things that actually work for people like me that are pharmaceutically challenged. From where I was, this is like heaven ... I'm not out of the woods, but I'm out of my cave. The program works, it's a wonderful thing."
The Tomah VA is one of 18 flagship Veterans Integrated Service Network sites which have been given resources and support to develop and expand whole health practices, Brahm said. Tomah VA employees are thrilled to be one of the pioneer sites, she said.
"We're already beginning to gather a lot of data about how this works, and I'm hoping that we will be able to share that data, and nationally they will use that data in large cohorts to be able to shift America's thinking about whole health," she said.