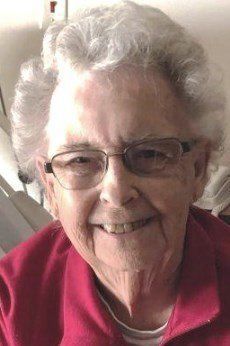 CAMP DOUGLAS — Cathryn "Katie" A. Connor, 87, of Camp Douglas died Sunday, Dec. 1, 2019, at Agrace Hospice Care in Fitchburg, Wis.. Katie was the daughter of William and Cathryn (Cauley) Schuessler and was born Dec. 7, 1931, in Clifton, Wis. Katie was raised in the Clifton area and graduated from Tomah High School in 1949.
Katie was united in marriage to Gervase "Gus" Connor, Oct. 1, 1953, at St. Michael's Catholic Church, at Indian Creek. To this union seven children were born, Sheila, William, Theresa, Robert, Valerie, Paul and Christopher.
Katie wrote articles for the Times Argus Newspaper in New Lisbon, Wis., but most importantly she was a housewife. Katie enjoyed playing bingo and cards, doing crossword puzzles, which she was excellent at. She liked to do volunteer work at various civic and church activities and at the meal site. Katie was an excellent baker for her family and church.
You have free articles remaining.
Gus died March 22, 1985. Katie later was married to Ellsworth Honish and he also preceded her in death in 2001.
Katie is survived by her children, Sheila Ann (Jim) Marx of New Lisbon, William Joseph (Jane) Connor of Elroy, Wis., Theresa Cathryn (David) Murray of Wisconsin Dells, Wis., Robert Leo (Teresa) Connor of Fitchburg, Valerie Lynn (Michael) Furlong of Rancho Santa Margarita, Calif., Paul Gerard (Frank) Connor of Hallandale Beach, Fla., Christopher Alan (Melissa) Connor of Poynette, Wis.;15 grandchildren; and 23 great-grandchildren. She was preceded in death by her parents; her husbands, Gervase Connor and Ellsworth Honish; brothers, John and Bernard Schuessler; and a grandson, Alan Story.
We are blessed beyond measure to have had Cathryn as our mother, grandmother and great-grandmother. She was deeply religious, loving, kind, caring and sentimental, with a tremendous love for her family and friends. Words cannot begin to say how much your expression of sympathy has meant to our families. Her absence will leave an unfillable void. She is in our hearts and a part of who we are and thus lives in us. We hope through our words and deeds that the mark she has left on the world continues to shine.
A Mass of Christian Burial will be held at 11 a.m. Saturday, Dec. 7, at St. James Catholic Church, 100 Bartell St., in Camp Douglas, with Fr. Robert Letona presiding. Relatives and friends are invited to a visitation from 4 p.m. until 8 p.m. Friday, Dec. 6, at the Hare Funeral Home, 217 W. Pearl St., in New Lisbon, with a rosary at 7:30 p.m. and from 10 a.m. till the time of service Saturday at the church. Burial will be in St. Michael's Catholic Cemetery in Indian Creek. The Hare Funeral Home in New Lisbon is assisting the family with services. Online guestbook available at www.harefuneralhome.com.