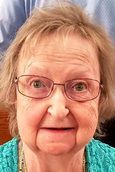 Florence "Pat" Eckelberg, 76, of Tomah passed away Monday, Feb. 15, 2021, at Rolling Hills in Sparta. She was born June 10, 1944, and raised by Arthur and Anna Hanson in Mason, Wis. She was united in marriage to Reuben Eckelberg, July 18, 1964, in Mason. He preceded her in death in July 2020.
Pat worked as a daycare provider in Tomah and Wilton and as a babysitter to many family and friends. Pat had the biggest heart of green and gold and was willing to help at the drop of a hat. She loved playing games, from Scrabble to pool, and enjoyed cooking. She was funny, quick witted, and always had a joke or a pun to tell. Pat found great joy in her role as a grandma, and great-grandma. She loved her family deeply and was very protective of them. Her beautiful spirit and charismatic personality will be missed by her children, grandchildren, great-grandchildren, and siblings.
She is survived by her four children, Rhonda (Dean) Burch of Tomah, Jolene (John) Glynn of Tomah, Nancy Rice of Elroy, Wis., and Chip Eckelberg of Mason; nine grandchildren, Apryl Ravet of Mauston, Wis., Mike (Mary) Ravet of Tomah, Sean (Staci) Glynn of Camp Douglas, Desiree Glynn of La Crosse, Cade (Misty) Ravet of Warrens, Tara Eckelberg of La Crosse, Reid (Kat) Rice of Tomah, Jessica Rice of Tomah, and Jayce Newman of Elroy; 12 great-grandchildren; and numerous siblings and other relatives.
She is reunited in heaven with her husband, Reuben; great-grandson, Kyson Rice; sister, Nancy Eskola; and niece, Lori Tappa.
Mass of Christian Burial will be held at 11 a.m. today, Friday, Feb. 19, at Queen of the Apostles Parish in Tomah. Monsignor David Kunz will officiate. Burial will be held at a later date at the St. Mary's Catholic Cemetery. Family and friends were invited for visitation from 4 p.m. until 7 p.m. Thursday, Feb. 18, at the Torkelson Funeral Home in Tomah, with a rosary beginning at 3:30 p.m. Visitation will also be held from 10 a.m. until the time of service Friday at the church. The Torkelson Funeral Home of Tomah is assisting the family with arrangements. Online condolences are available at www.torkelsonfuneralhome.com.
"A special 'Thank You' to the staff at Rolling Hills and Liberty Village, especially Macey Shabatka, for your love and dedication to our mom and dad!"
Family and friends who wish to view services via Facebook Live Stream, may visit Pat's obituary page at www.torkelsonfuneralhome.com and click on the Live Webcast link at 11 a.m. today, Friday, Feb. 19, or go to the Torkelson Funeral Home Facebook Page to view.