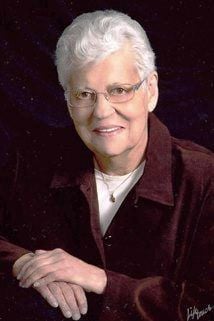 Verna Margaret Hoefs (née Paul), 94, passed away peacefully Friday, Nov. 8, 2019, at the Morrow Home in Sparta.
Verna was baptized into the Lutheran faith April 19, 1925. Verna grew up on a small dairy farm during the Great Depression in rural Dorchester, Wis. As a young woman, Verna set off on her own to Milwaukee. She married Reuben Dake, Nov. 10, 1945, and they had two daughters, Diane and Debra. Reuben passed unexpectedly in 1965. Verna worked full time at the Briggs and Stratton plant in Milwaukee, to support her daughters. She was an independent and hard-working woman. Verna spent time with Diane, son-in-law, Jerry, and two grandchildren, Jeff and Scott. In 1982, she married Elroy Hoefs and traveled across the U.S. and Canada. After Elroy's passing in 1986, she retired and moved to the Tomah area, to be near her daughter, Debra, son-in-law, Patrick, and two grandchildren, Tim and Dan. In her retirement, she enjoyed bird watching, playing pinochle with family, gardening and preparing home-cooked meals for the family. She was quick-witted and enjoyed teasing her sons-in-law. She was the matriarch of the family and was especially close to her grandchildren.
You have free articles remaining.
Verna enters eternal life preceded by her father, Rudolf Paul; mother, Rose Paul (née Brunner); sister, Elaine Noonan (Bud); husband, Reuben Dake, second husband, Elroy Hoefs; and daughter, Debra Mulrain (Patrick).
Verna is remembered by her brother, Donald Paul (Dorothy); sister, Joyce Reckner; daughter, Diane Koser (Jerry); son-in-law, Patrick Mulrain; grandchildren, Jeff Koser (Tondra), Scott Koser (Chris Martin), Tim Mulrain (Carrie) and Dan Mulrain. She is especially loved by her great-grandchildren, Makayla Koser, Bridget Koser,and Grace Mulrain.
A memorial service will be held at 11 a.m. Friday, Nov. 15, at the Gloria Dei Lutheran Church, 310 W. Elizabeth St., Tomah. Pastor Scott Mann will officiate. Burial will be at a later date. Relatives and friends are invited to call from 4 p.m. until 7 p.m. Thursday, at the Sonnenburg Family Funeral Home, 801 E. Monowau St,Tomah, and from 10 a.m. until the time of the service Friday at the church. Online condolences may be sent to www.sonnenburgfamilyfh.com.