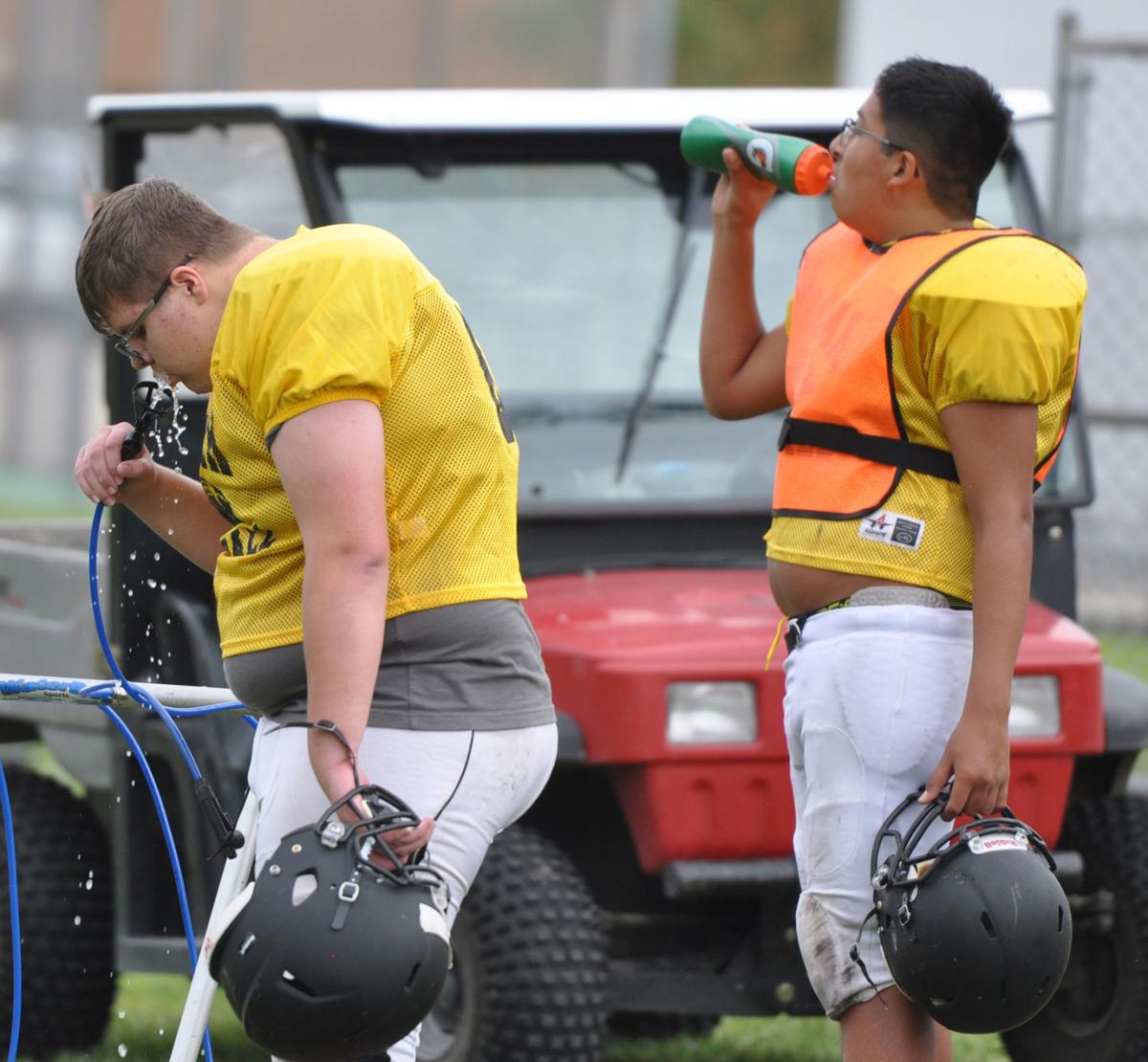 Evan Long will call the signals when the Tomah High School football team opens its season Friday, Aug. 23 against Mauston in a non-conference matchup at Tomah's E.J. McKean Field.
Kickoff for the Parents Night contest is 7 p.m.
Tomah coach Brad Plueger said Long, a junior, won the quarterback job based on his performance at a scrimmage in Portage. Plueger said the competition has been close between Long and Justin Gerke, who started all nine games as a sophomore last season.
"Both of them have really competed, and we just went by the scrimmage," Plueger said.
Plueger said Long did a good job of reading the defense and knowing when to pull the ball down and run.
It was an important scrimmage for a Tomah team that's converting to a spread offense and also modifying the defense to a 4-2-5 alignment. Plueger said the team got off to a "very rough start on both sides of the ball" at Portage but improved considerably as the scrimmage progressed.
"We were able to figure things out and a got a lot better — and we were injury-free," Plueger said.
With no fullback or tailback, Tomah's spread offense relies heavily on wide receivers, and Gerke will be a welcome addition to the receiving corps. At 6-3, Plueger believes Gerke has the size and reach to be an effective pass catcher, especially in the end zone.
Two receivers — juniors Kade Gnewikow and Boone Mathison — lettered last season as sophomores. Mathison is coming off a shoulder injury during the baseball season and didn't participate in the scrimmage, but Plueger is cautiously optimistic he'll be ready for the opener.
Junior Zander Williams, a 6-5 junior, will get lots of snaps, along with junior Luke Buckendahl. Seniors Ian Neitzel and Brandon Long are in reserve.
Plueger plans to split the snaps at running back between senior Nathaniel Spears and junior Evan Westpfahl. The two complement each other well, Plueger said.
"Nate is a little quicker; he can hit the hole fast and take it to the house," Plueger said. "Evan is more of a finisher. He can lower the boom on people."
Junior Brandon Lueck is the top backup at running back.
The offensive line is led by senior center Colby Von Haden, the only full-time starter back from last season. With the quarterback rarely taking the snap from under center in the new spread offense, Plueger said Von Haden "has one of the hardest jobs on the team. It's important to get a good snap from him."
The only other lineman with varsity experience is senior Elijah Klema. He'll start at right guard with junior Willie Bowie starting at left guard. Bowie is also Von Haden's backup. The reserves at guard are senior Hayden Larson and junior Jake Roberts.
Chase McIntosh, a junior, is the starting right tackle, and sophomore Calvin Mitch starts at left tackle. Senior Ben Eckdahl, junior Caden Harmel and sophomore Hayden Eades are the backups.
You have free articles remaining.
"We're bigger than the we've been in the past," said Plueger of his linemen. "If we get on people, we can move them."
The new defense features just two inside linebackers and five defensive backs, including three safeties. Plueger said there will be more man-to-man coverage in the secondary.
The three starting safeties are senior Dawson Cruz, Gnewikow and Lueck with senior Jacob Powell and sophomore Bryson Retzlaff in reserve.
"Our five safeties can run with people, and they're learning to fit in with each other," Plueger said.
Mathison and returning junior Ethan McClurg are the starting cornerbacks. In reserve are juniors Hunter Neumann and John Carmichael.
The two linebackers senior Connor Perry and junior Sean Gadbois. The backups are Roberts and junior Logan Radek.
Larson and junior Zach Pasch are the starting defensive tackles with Gadbois and Bowie next on the depth chart.
At defensive end, senior Jairon Pierce is back from an injury that wiped out the last two-thirds of his 2018 season. He's joined by junior Christian Welch. Perry is the top backup.
Plueger said the defensive line shows promise.
"We're really thick in the middle, and we have guys on the edge who play well on their feet," he said.
Gnewikow returns as placekicker with Long as the holder and Von Haden the long snapper.
One of the surprises of the preseason was Cruz winning the punting job. Westpfahl earned the job as a sophomore last year, but Plueger said Cruz excelled at practice. Plueger believes the kicking game is a strength.
"I'm excited because I feel comfortable kicking a field goal, and we change field position punting and on kickoffs," Plueger said. "When you keep giving the team the ball at the 40-yard line, that's tough."
Plueger said the goals for 2019 are to finish .500 or better in conference play — and the WIAA playoff berth that goes with it — and to beat Sparta again. While last year's 2-7 campaign was difficult, but Plueger said it was an achievement to defeat a very good Sparta team and keep the traveling trophy.
He said getting off to a fast start during nonconference games against Mauston and Black River Falls is crucial before opening the Mississippi Valley Conference campaign Sept. 6 vs. La Crosse Central.
"We have to play better right from the start, especially with new schemes on both sides of the ball," Plueger said.