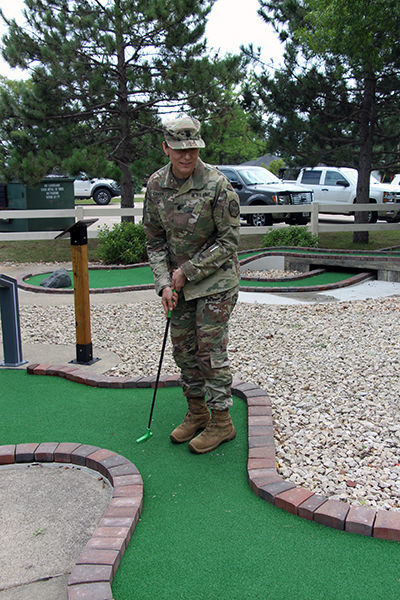 The mini-golf course at Fort McCoy's Pine View Campground officially reopened with a ribbon-cutting ceremony at the course July 26 following several months of refurbishment.
Contractor Lifecycle Construction Services of Savannah, Georgia, completed the $100,000 renovation.
"The mini-golf course is one of the primary attractions here that allows the thousands of families that visit Pine View each year to enjoy some quality recreation time together," said Directorate of Family and Morale, Welfare and Recreation director Patric McGuane. "This upgrade took a lot of work to get done, but after 20 years it was time to put this new course in."
McGuane said the upgrades facility is a welcome addition to the Pine View campground.
"We have one of, if not the best campgrounds in the Army," McGuane said. "Installation Management Command-Readiness recognizes the quality of our program and has been very generous in supporting us with funding for improvements."
DFMWR bsiness and recreation director Daryl Budda and his team assessed the condition of the course and determined the previous course was past its useful life and needed an upgrade.
DFMWR and the contractor decided the best option was to install a prefabricated solution that matched the existing hole layout, according to Lifecycle's work plan for the project.
Lifecycle began work on the project in May by removing existing pavers, carpet turf and sub-surface prefabricated material down to the existing sub-base for all 18 existing holes.
The work also included removing other structures and infrastructure, then building it back up from there.
Once all the demolition was completed, the prefabricated system was installed and new pavers, carpet, and other new items were added, such as new lighting.
At the ceremony July 26, Garrison Commander Col. Hui Chae Kim, Deputy Garrison Commander Lt. Col. Sheila L. Coker, and Deputy to the Garrison Commander James A. Chen were on hand to cut the ribbon with DFMWR director Patric McGuane.
Visitors to the ceremony were then encouraged to try a free round of mini-golf to test the course. The mini-golf course is just one piece of a three-part project getting completed this summer, McGuane said.
"We're very excited to be opening up our brand new 'Magic Carpet' tubing lift at Whitetail Ridge this winter, and construction is under way right now for 10 new cabins at the campground," McGuane said. "We're taking an incredible recreation program and making it even better for our service members, civilians, retirees and their families."
To use the new mini-golf course, stop by Pine View Campground, which is located near the Fort McCoy cantonment area off Hwy. 21. Visitors can follow the signs to the campground.
Be the first to know
Get local news delivered to your inbox!