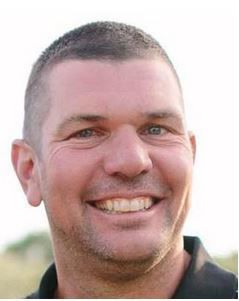 Twenty-three seasons ago, Brad Plueger was taking handoffs from Joe Protz.
Now Protz is taking the ball from Plueger.
Protz was selected as Tomah High School's new football coach during a March 16 meeting of the Tomah School Board. He replaces Plueger, who stepped aside after 14 years as head coach to become the school district's activities director effective July 1.
Protz is a 1998 Tomah High School graduate and became the team's starting center in 1996, when Plueger was Tomah's quarterback. Protz said he learned a lot from Plueger and from coaches in La Crosse, where he worked for nine years before moving back to Tomah.
"I learned a lot from Brad about how to manage a football program," Protz said. "I learned a lot from people in La Crosse − I worked with Wally Gnewikow. I hope to use what I learned and add a few twists of my own."
Protz is the city of Tomah Parks and Recreation director, a position he has held since 2009. After moving back to Tomah, he joined Plueger's staff to coach the offensive and defensive lines. He then served as defensive coordinator for the junior varsity team for two seasons. He has spent the last five seasons coaching at the middle school level.
He also played a big role in expanding Tomah's Special Olympics. He coached the program's first powerlifting team.
You have free articles remaining.
Tom Curran, who will retire as Tomah activities director effective June 30, said Protz "was an outstanding player and is very dedicated to the sport of football."
"Joe always has the best interests of Tomah kids in mind," Curran said. "He loves kids. He loves coaching. We're very excited to have him."
Protz played for the 1997 team that claimed Tomah's first-ever WIAA playoff victory. It was a run-oriented team that featured tailback T.J. Bramwell, who would rush for over 2,300 yards the following season.
"My philosophy is being able to run the football," he said. "You have to be able to run the football, and you have to be able to stop the run. We had a pretty good running game when we played, and I want to return to that."
He also wants to boost numbers at the high school and youth levels. Last year's team featured 30 juniors, including two-year letterwinning quarterback Justin Gerke, but numbers are considerably smaller for the 2021 and 2022 classes.
"I definitely want to get more numbers in our youth program and get everyone excited about football in our community," Protz said.
The Timberwolves are coming off a 3-6 overall record and a 1-5 mark in the Mississippi Valley Conference.
Tomah's 2020 opener is scheduled for Aug. 21 at Mauston. The Timberwolves open their Mississippi Valley Conference season Sept. 4 at home against Sparta.
Be the first to know
Get local news delivered to your inbox!