The Vernon County Historical Society threw a birthday party Saturday, July 27, to celebrate its museum building's centennial.
The museum is housed in the former Vernon County Normal School (it was renamed Vernon County Teachers College in 1955) building, at the corner of South Center Avenue and Main Street in Viroqua. The building was completed and first opened to students in 1919. From 1919 until 1937, training was a one-year course. In 1937, a two-year training course was required.
La Crosse architects Albert E. Parkinson and Bernard J. Dockendorff designed the red brick Normal School (teachers college) building, just one of about 150 schools that their architectural firm worked on. The first class graduated from the new school in 1920, and the last class in 1971. The building was purchased by the Vernon County Historical Society in 1989 to house its museum.
The Vernon County Teachers College included a Model School. From the beginning until 1965, parents could choose to send their children to attend grades 1-6 (at first it was grades 1-4) within the school Classes were taught by student teachers and overseen by a certified instructor.
Gloria Warmuth graduated from the teachers college in 1964. Warmuth's first teaching job was in Iowa, a position she held for six years.
"I went to summer school for seven years at Platteville to get my degree," Warmuth said. "You had to take so many credits per year."
Warmuth returned to Wisconsin and taught elementary school at De Soto, her alma mater.
"Those were the days; we were all family," she said.
Warmuth said the education she received at the Vernon County Teachers College was the best education she got because she learned how to teach.
Betty Kilmer entered the teachers college right after graduating from Viroqua High School in 1954.
Kilmer recalled taking a school trip to the East Coast with fellow students via bus. "We went across Lake Michigan on the ferry on the way to Niagara Falls... Miss Flugstad organized the whole trip. I still remember all of that trip."
While she attended teachers college, Kilmer waited on tables at Dunnum's Café before school from 6-8 a.m. and after school from 4-8 p.m.
Kilmer's first job after graduating from the two-year college in 1958 was at White Pigeon one-room school on west Hwy. 56. "There were 34 kids and all eight grades." She was there for three years, followed by a three-year stint at Lynn school near Liberty Pole.
When the rural one-room schools were consolidated, she taught third grade at Liberty Pole Elementary School and then moved to Viroqua Elementary School, where she retired after 37 years as an educator. She taught second and third grade. "I just loved it."
Jean Wolenec attended both the Model School for all six grades and the teachers college.
"I started at age 5," she said. "I lived behind the Normal School on Main Street. Mom didn't want me to walk to public school."
Wolenec said she attended the teachers college for two years, but didn't go through cadet training (the final step before graduation) because she was pregnant.
Janet Welch, who graduated from the Normal School in 1948, was one of Wolenec's student teachers. Welch said seniors would student teach for two weeks in the spring of their senior year.
Wolenec said the Model School was a good place to start her education. "The classes were small and the student teachers had to be nice to you," she said with a laugh.
The birthday party featured cake and lemonade, puzzles and games, as well as special exhibits about the Normal School building and its students. Former students were stationed at various locations throughout the museum to tell their stories of life at the Normal School.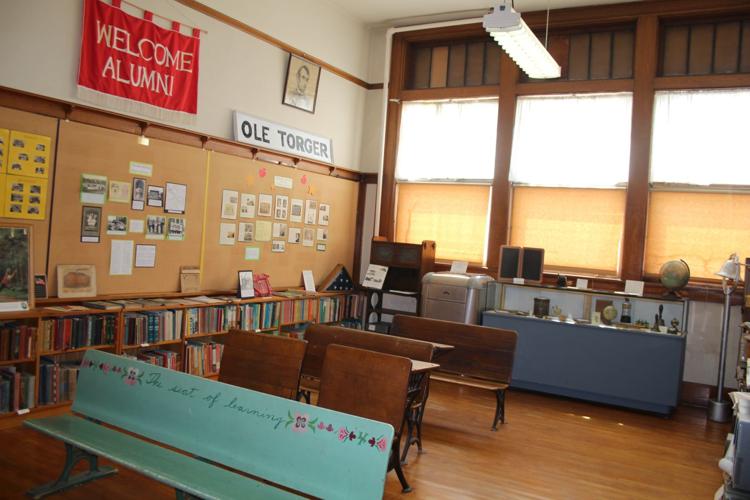 Because most Normal School alumni when on to teach in Vernon County's rural schools, the historical society's Foreaker one-room school on West Broadway in Viroqua was also open that day. About 100 people came to the museum for the open house, and about 40 people visited Foreaker School. Volunteer teacher Jill Miller was on hand to greet visitors. Together with Karin Iverson, she runs the Foreaker School program for local schoolchildren, offering a day-long immersion experience of what school life was like many years ago.