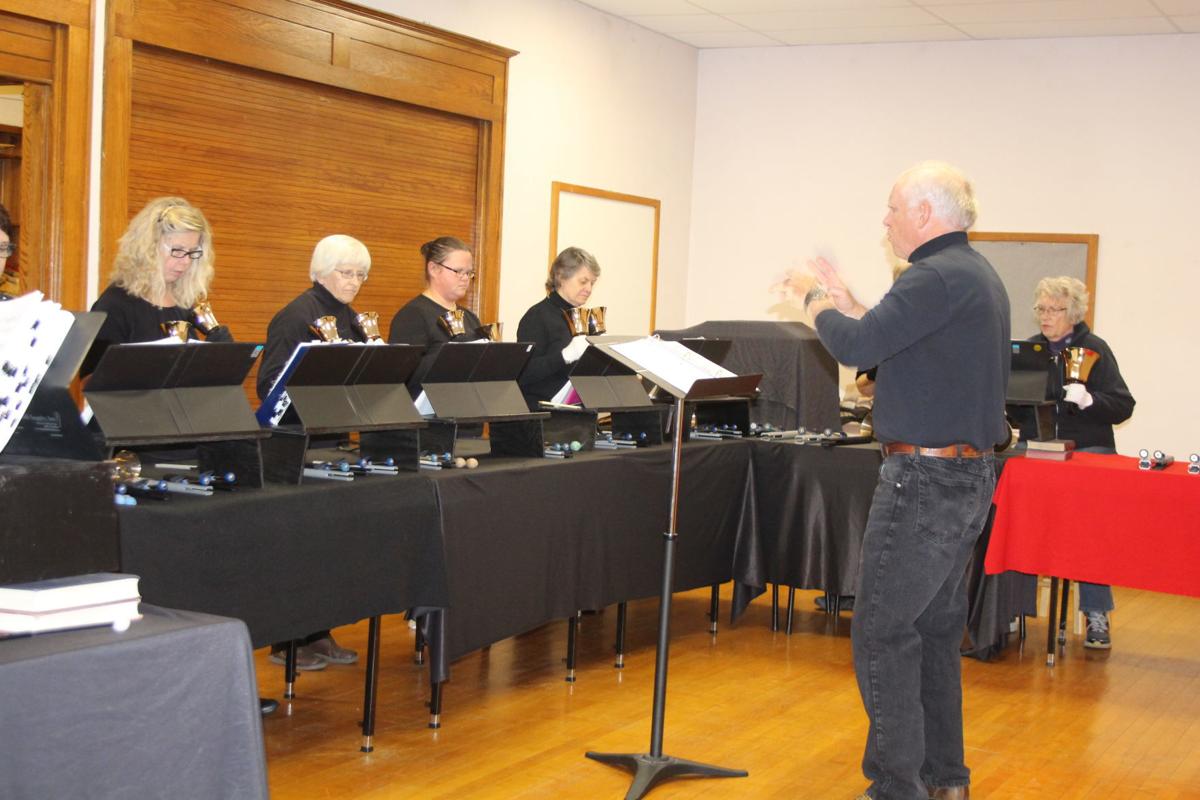 The Viroqua Community Bell Choir has been sharing their talents and music with the community since it was organized in the spring of 1986.
The choir, which is made up of 11 ringers, is gearing up to give four performances next month under the direction of Paul Woodward. Woodward took over as the new director in August.
The choir will perform at Caroling of the Choirs at Good Shepherd Lutheran Church in Viroqua on Sunday, Dec. 1 at 7 p.m.; at Fairhaven on Tuesday, Dec. 3 at 5:30 p.m.; at the Kickapoo Reserve Holiday Happening on Saturday, Dec. 7 at 2 p.m.; and at their own concert at Viroqua United Methodist Church on Sunday, Dec. 8, at 2 p.m.
The Dec. 8 program includes lots of newly purchased music, as well as old favorites. The praise band Spirit from Black River Falls will also take part. Irene Fortney, a bell-ringer for 12 years starting in the fall of 1986 and then the director for 21 years, will be honored; the choir will play two of her favorite Christmas songs. The concert is free. Refreshments will be served following the program.
New music to be performed on Dec. 8 includes "Exuberance" by Donna Butler, "Firework" by Katy Perry, "Phantom of the Opera" arranged by Douglas E. Wagner, "Jolly Old St. Nicholas" arranged by Joel Raney, "Hark! Christmas Bells" arranged by John Behnke and "Comfort, Comfort" arranged by Cathy Moklebust.
Each player has at least three bells, three chimes and one or two mallets to keep track of during a performance. Many different techniques will be demonstrated at their program.
Choir historyAlthough the choir was formed in the spring of 1986, the bells were not purchased at that time. The two-octave set of carillon bells was a gift from Clara Overbo, purchased in 1977 for the Viroqua United Methodist Church. They were played for a time by members of that congregation. Over time, however, those members graduated, moved or became disinterested, and so the bells sat idle for several years.
According to information compiled for the choir's 25th anniversary reunion concert, nine years after the original purchase, a community meeting was held, and there was enough interest for two choirs to begin playing the bells again. Though it was agreed that they be housed at the Methodist Church, the choir members were from a variety of churches in the area, and the bells became "travelers" for many occasions. They were played for church services, Caroling of the Choirs, weddings, nursing homes, community events such as mother-daughter banquets, community group meetings and parties. The group even played for the visit from Viroqua's sister city delegates from Russia.
The choir never charged money for playing, but accepted freewill offerings and a meal or dessert now and then. Money collected is used to buy new music, gloves and other supplies to provide upkeep on the bells. A third octave was added in 1990, purchased by Shirley Hanson in honor of her mother, Mildred Hunter. A three-octave set of chimes was purchased by the bell choir about that same time to add more variety to the music.
At the time of the reunion concert on May 1, 2011, the choir shared this quote from Pat Peterson, who got the choir started: "In 1986 I found out that the Methodist Church in Viroqua had a hidden treasure. They had a set of handbells that had been donated to the church but didn't currently have a choir to play them. After getting approval from the church, I went on a mission to change that and 'find a choir'."
The Viroqua United Methodist Church lets the choir use their handbells and provides space for rehearsals and storage of equipment. The bells were completely refurbished in 2014 with donations from the community.
Jeff Woodward, who began directing the group in August, has a background in music.
"While I was in college in Ohio, I was fortunate to pursue my music interests by directing a handbell and high school choir at a large church in Dayton," he said. "Although I was a business major, I was able to collect a minor in music."
Through his business career, corporate transfers took Woodward and his family to a variety of locations, including Ohio, Colorado, Florida and northern Virginia. "In each location I was fortunate to find churches in need of music leadership both with handbell, vocal choirs and praise bands."
In 2010, Woodward retired from corporate life and moved to the Coulee Region where his son, Paul, and family had settled.
"Our grandchildren were a huge inducement to our relocation," Woodward said. "Paul and I went into business together in Viroqua and once again I found a church in Black River Falls in need of a music director that included a handbell choir."
He and his wife, Cindy, started playing with the choir in 2014. He was a substitute player and occasionally served as a substitute director. "I am honored to be the new director of the Viroqua Community Hand Bell Choir and look forward to leading that very talented group."
The choir rehearses from 5:30-7 p.m. on Tuesdays and welcomes new members and substitute ringers. Interested people may contact Jeff Woodward at jfwoodward@aol.com or 608-452-2998 or 703-779-2566.