Viroqua Elementary Schools launched the 2019-20 school year with a space-themed assembly, Tuesday morning.
With the theme, "Blasting off into an awesome adventure!", students and teachers filed into the cafetorium while the Star Wars theme music and "Fly Me to the Moon," sung by Frank Sinatra, played.
Jennifer Oppriecht, elementary school counselor, welcomed everyone to the assembly and told the students Kate Moll, former principal, took a job in La Crosse and Tim Lee, former physical education teacher, would be "commander of our spaceship" for a while.
Lee told the children their mission was to be the best they can be. "I'm happy to be here," he said. "We have a wonderful building with a wonderful staff."
Oppriecht told the students that this summer marked the 50th anniversary of the Apollo 11 moon landing, and they would be celebrating that this school year.
Lee asked students who was the first person to land on the moon, and students replied, "Neil Armstrong." "Apollo 11 launched July 16, 1969, and landed four days later," he said.
Following Lee's remarks, the audio of Armstrong's words, "That's one small step for man, one giant leap for mankind." played while an astronaut planted a Viroqua Blackhawks flag on the moon's surface.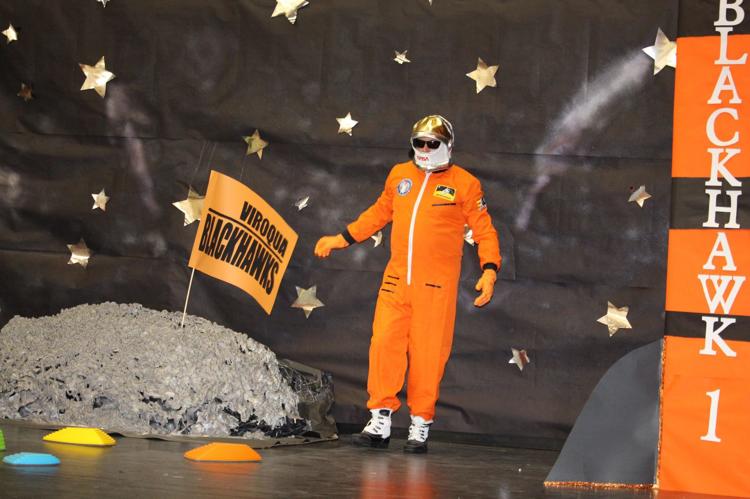 "We are ready to make our mark," Oppriecht said.
"The mission of Blackhawk 1 is to make this a great year for all," Lee said.
Blackhawk 1 crew members (teams of teachers and staff) were then called to the stage and each team placed their flags on the moon.
After all of the teams were introduced, the new astronauts (teachers) were called back to the stage to compete in a special mission that had them walking on moon rocks, eating a freeze-dried ice cream sandwich and moon walking back to the starting line. The winner received a trophy, a wood letter "V," to hang in the classroom.
Oppriecht invited the students to recite Viroqua Elementary Schools' four expectations (also known as the Viroqua Way) – be respectful, be responsible, be safe and be kind.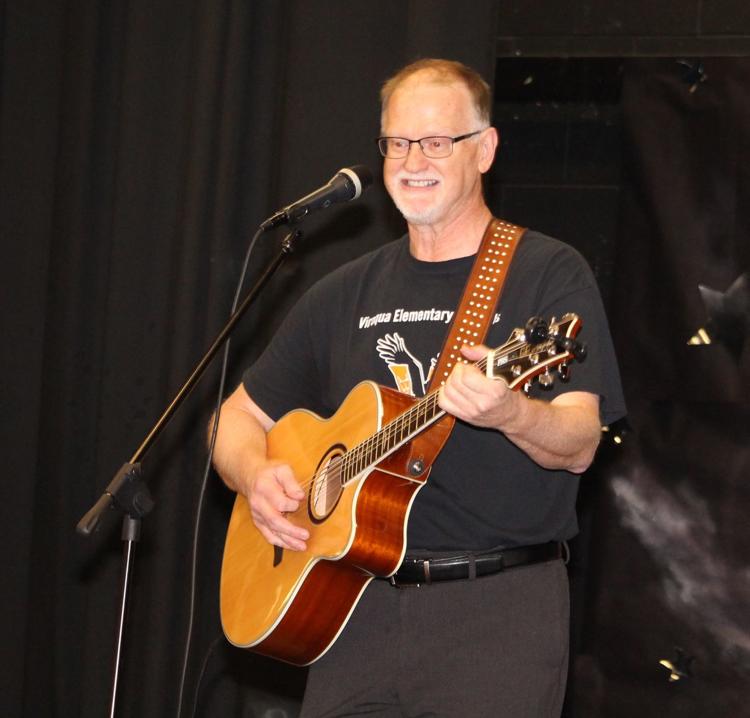 District Administrator Dr. Kehl Arnson performed a song he wrote about the Viroqua Way called "That's Me." He reminded students to listen to their parents, teachers, kitchen staff and custodians. "Be the best you can be."
"Let's make this an awesome adventure," Lee said.