Area residents had a chance to learn about space and what it's like to be an astronaut from a Viroqua High School graduate who went on four space flights as part of Space Shuttle crews.
Mark Lee, the son of Viroqua residents Charles and Ruth Lee, shared stories and pictures Saturday afternoon about his time with NASA as an astronaut. The talk was given in the Viroqua Elementary School cafetorium, and was presented by McIntosh Memorial Library in partnership with the Vernon County Historical Society and Viroqua Area Schools.
Lee told the 350-member audience it was the first time he had given a presentation within sight of his childhood home, which is just west of the elementary school.
He said he was attending Davis School when on May 5, 1961, astronaut Alan Shepard was propelled into outer space; the flight lasted 23 minutes and the seed to become an astronaut was planted.
Over the course of his career Lee had the opportunity to go on four space flights, spending 33 days in orbit. Lee was part of the teams that traveled on the STS-30 Atlantis, STS-47 Endeavor, STS-64 Discovery, and STS-82 Discovery. The trips enabled him to travel 13 million miles and to go around the world 517 times. Lee said his favorite mission was his third flight, when he tested a self-rescue jetpack.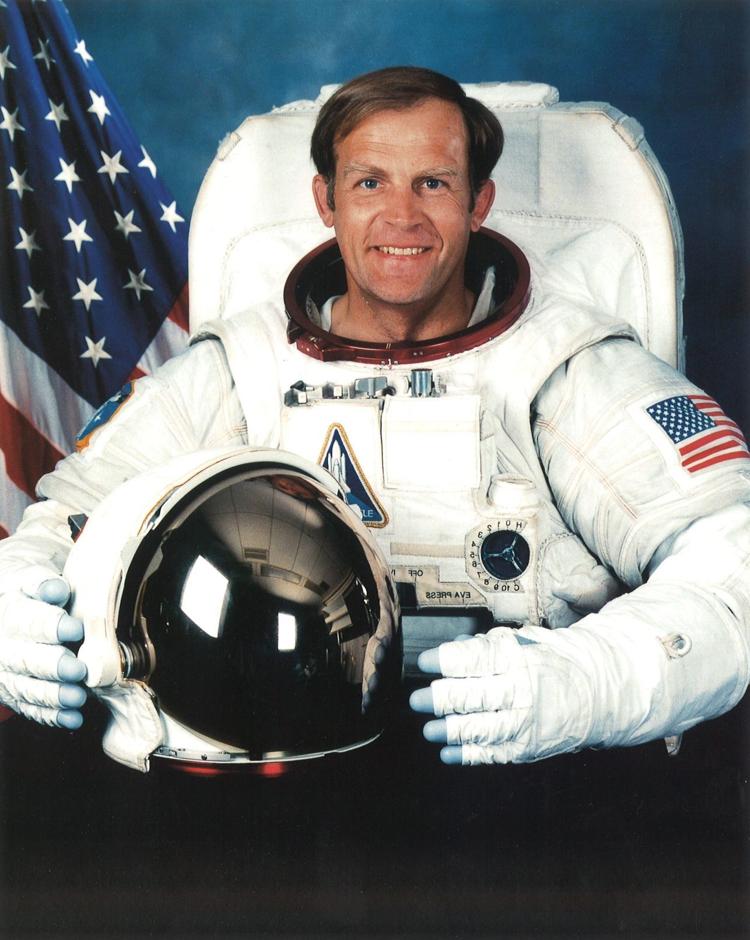 Lee told the audience a person grows two inches in space. "It takes a while to adapt," he said. "Your legs get skinnier and your waist thinner. The first day in space you get rid of two liters of fluid."
He also said it takes time to acclimate once an astronaut is back on Earth. "Someone is always with you as you get used to being back home." Lee noted it's difficult to make corners. "You have to look where you want to go."
Lee said that when one is in space "there is no up and down – things are different in orbit."
Lee said he was 16 years old and a lifeguard at the Viroqua pool when Apollo 11 landed on the moon. "I went to the back balcony and looked at the moon and said, 'Someday I'll be up there'."
During the question and answer period, an audience member asked what he did prior to becoming an astronaut. Lee said he studied civil engineering at the U.S. Air Force Academy based on the advice of a professor who told him NASA would need civil engineers because they'll be building bases on the moon.
"That's one of the biggest lines of BS I ever fell for in my life," Lee said.
Lee earned a Master of Science degree in mechanical engineering from Massachusetts Institute of Technology, where he specialized in graphite/epoxy advanced composite materials, because, he said, an adviser told him that's what NASA would use to build space stations.
Lee was selected as an astronaut candidate by NASA in May 1984. In June 1985, he completed a one-year training and evaluation program, qualifying him for assignment as a mission specialist on future Space Shuttle flight crews. One young audience member asked Lee if astronauts watched television while in space. He said no, because they can look out the windows to see the Earth.
Another audience member asked how much food was taken on a mission. Lee said astronauts can choose their own food and take enough for a normal mission plus two more days. He noted the food is dehydrated and moisture is injected into the packets. Liquid salt and pepper are used, and astronauts eat tortillas instead of bread.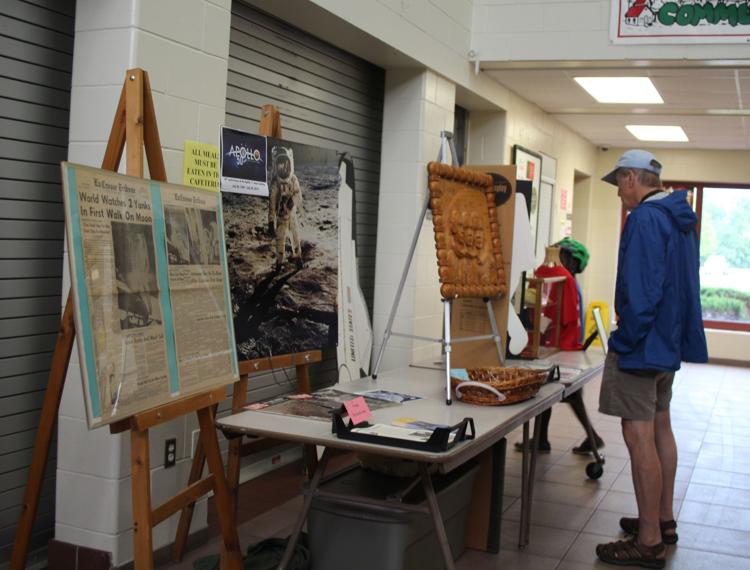 Lee retired from NASA and the Air Force in 2001. Today he serves as the director of aerospace facilities for Affiliated Engineers, Inc.