Violinist Noah Geller, Concertmaster of the Seattle Symphony, will be joined by the famed Grammy Award-winning cellist Sara Sant'Ambrogio, International Prize-Winning pianist, Henry Kramer, and three renowned musicians performing on stage at Pierce Hill's Chamber Music Festival, Aug. 10 and 11.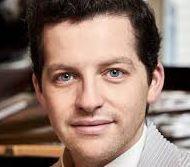 Proceeds from the festival will go to the Pierce Hill Scholarship Fund. A core mission of Pierce Hill Performing Arts is to provide scholarships to young Wisconsin musicians who want to study at summer music camps and festivals in North America.
Wyatt Sutherland, co-founder of Pierce Hill Performing Arts, said that all ticket sales from concerts hosted by Pierce Hill go to the scholarship fund.
"After we pay the musicians, the rest of the money goes to the scholarships," Sutherland said.
Sutherland said many students want to attend music camps but are unable to because they can't afford it. "We don't want money to be a barrier. We want them to discover what music camps are like." He said attending a music camp can be a "game-changer" for a student's life goals and ambitions.
This summer Pierce Hill awarded scholarships to three Wisconsin students totaling $3,000.
This is the second year concerts have been hosted by Pierce Hill. "Last summer was the inaugural season," Sutherland said. "There was a tremendous response. People came from Chicago, Milwaukee and the Twin Cities."
About the festivalGeller was appointed to the Seattle Symphony Concertmaster position in September 2018, and prior to Seattle he was the Concertmaster of the Kansas City Symphony and appeared frequently as soloist with the KCS.
Geller began his professional career in the first violin section of the Philadelphia Orchestra in 2007 while still pursuing his master's degree at the Juilliard School of Music. He served as acting assistant concertmaster of the Philadelphia Orchestra and as guest concertmaster with the Pittsburgh Symphony Orchestra, the Houston Symphony, and the China-Beijing National Symphony.
Geller often finds himself back home in Viroqua visiting his mother, Malkah Geller.
Two amazing rising stars, Julian and Tabitha Rhee, from Brookfield will also perform on the Chamber Music Festival.
The program for Saturday, Aug. 10, at 7:30 p.m. is as follows: Stravinsky Suite Italienne for Violin & Piano; Halvorsen Passacaglia for Violin & Viola; Brahms String Quintet No 2 in G major; and Schumann Piano Quintet in E-flat major.
The program for Sunday, Aug. 11, at 3 p.m. is as follows: Ravel Sonata No 2 for Violin & Piano; Martinů Three Madrigals for Violin & Viola; Brahms String Sextet No. 1 in B-flat major; and Dvořák Piano Quintet No. 2 in A major.
Tickets are available at https://www.piercehillperformingarts.org/shows. A complete list of upcoming concerts can be found on Pierce Hill's website.
Pierce Hill Performing Arts is a 501 © 3 nonprofit organization. It is located at S4706 Orchard Road, Viroqua.