Brianna Hall, the 2019-20 Vernon County Fairest of the Fair, is ready to take on her role as the fair's ambassador.
"I was really excited when it was announced I was Fairest of the Fair," Hall said. "It will be an awesome experience and opportunity to promote the fair."
Hall, a member of the Westby High School Class of 2016, was crowned Fairest of the Fair at the Vernon County Fair Ferris Wheel Breakfast on July 20.
Hall said she is looking forward to attending fair events she's never attended before, such as the harness racing and demolition derby.
She's also looking forward to seeing horse pulling, a new event that will be held on Saturday, Sept. 14. "I'm super excited to see that. It will get more people to the fair."
Hall said she hopes to see a lot of people during fair week. "I want to interact with as many people as I can."
Hall said the people who attend the fair make it unique. "There's something for everyone…," she said. "It caters to a lot of ages and groups of people."
Hall, 22, is no stranger to the fair. Before she was old enough to show dairy cattle, she participated in the Little Britches Dairy Show. When she was old enough to join 4-H, in addition to showing dairy cattle, she grew pumpkins to exhibit and one year exhibited photographs. She also worked at the 4-H food stand during the fair.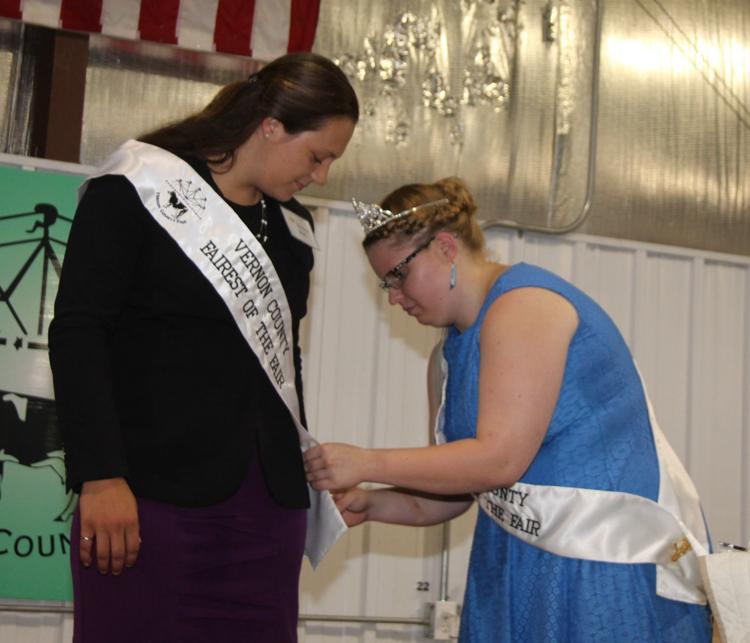 As a member of the Kickapoo Rustlers and Springville Super Stars 4-H clubs, she participated in numerous other 4-H activities, including the 4-H play and volunteer projects in the community.
Hall said one of her favorite fair memories is of family coming together at fair time. She said on Sunday they would look back on their hard work and "how awesome it was at the fair."
"One of the most memorable fairs was the year us four kids with 12 head of dairy," she said.
Hall, who was a high school junior at the time, remembers getting up at 4 a.m. to wash their cattle for the dairy show. She said they were able to get the cattle ready in time for the show, but decided 12 head was a lot to handle. She and her siblings showed both Jerseys and Holsteins.
As a 4-H'er, she participated in the annual collegiate dairy cattle judging competition as a showman. During the event, 20 university teams from across the United States come to the fair to compete for top dairy judging honors by analyzing dairy cattle shown by Vernon County dairy exhibitors. Hall won two showmanship awards. She also had the opportunity to judge as a member of University of Wisconsin-Platteville dairy judging team.
Like so many other people, Hall has favorite fair foods. "Westby (Co-op Creamery) cheese curds that are deep-fried and funnel cakes are my top two."
Hall is a senior at UW-Platteville majoring in reclamation and environmental conservation.
"In the future I hope to either work with stream or prairie restoration," she said. "I hope to come back to the area. I love this area."
Hall, who graduates in May, had an internship this summer with the Vernon County Land and Water Conservation Department working at Sidie Hollow Park. "I learned about parks and parks maintenance."
At UW-Platteville she is on the track and field team, is member of the dairy judging team, participates in the reclamation and environmental conservation club, and is involved with Fellowship of Christian Athletes. "I enjoy being busy and involved in the different organizations."
She is the daughter of Mike and Sherry Hall of Westby.