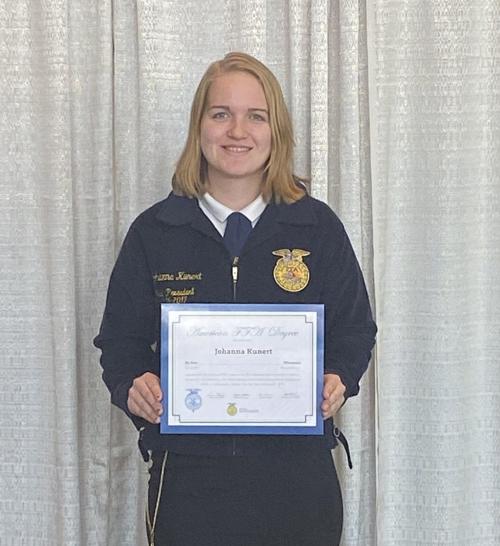 De Soto High School alum Johanna Kunert received her American FFA Degree at the 92nd National FFA Convention at Lucas Oil Stadium in Indianapolis on Nov. 2.
The degree is the highest degree an FFA member can earn. Requirements for this degree are set in the National FFA Constitution. To be eligible, members must have received the State FFA Degree, hold active membership, complete secondary instruction in agricultural education, and operate an outstanding supervised agricultural experience (work-based learning) program that has accrued thousands of hours worked. Community service, leadership abilities and outstanding scholastic achievement are also required. Less than 1% of FFA members will achieve this honor.
All applications are submitted to the National FFA Organization after approval of the Wisconsin FFA Association. The National FFA Board of Directors approves qualified candidates to receive the American Degree at the National FFA Convention and Expo.
Kunert's SAE was in dairy production, working in many roles on Kunert Farms and Dietzenbach Farms. She also held a job at Tractor Supply Company. Kunert is a second-year student at Northeast Iowa Community College in Calmar, where she is in the Dairy Science Technology program. She is the first De Soto FFA member to receive the American Degree since 2005.
Be the first to know
Get local news delivered to your inbox!