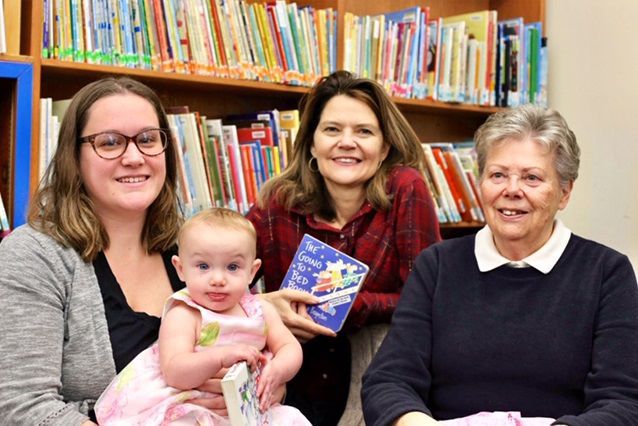 Beginning with this year's Christmas Open House on Dec. 14, the De Soto Public Library will be offering each new baby born in the library district with two new board books and a handmade "First Book Bag."
Books will also be available to babies born anytime in the past year (since Dec. 1, 2018). To be eligible for the program, at least one parent must be a current De Soto Public Library card holder, or register for a new card when picking up books.
The open house will be held on Saturday, Dec. 14, from 10 a.m. to noon and will include crafts for adults and children, Christmas stories, refreshments and cookie decorating, in addition to the book program kick-off.
In speaking about the Books for Babies Program, Library Director Janet Rowe said developing early literacy skills "makes it easier for children to read and enter school with an advantage." Rowe added that reading is "also a terrific way to encourage bonding between caregivers and their new baby."
Library Board President Jean Sandry, who makes the book bags, also expressed her enthusiasm for the book giveaway. "We're hoping to introduce families to the Library early and create lifelong readers," she said.
Individuals with questions about Books for Babies or the Christmas Open House may call the De Soto Public Library at 608-648-3593 or email desktopl@wrlsweb.org.