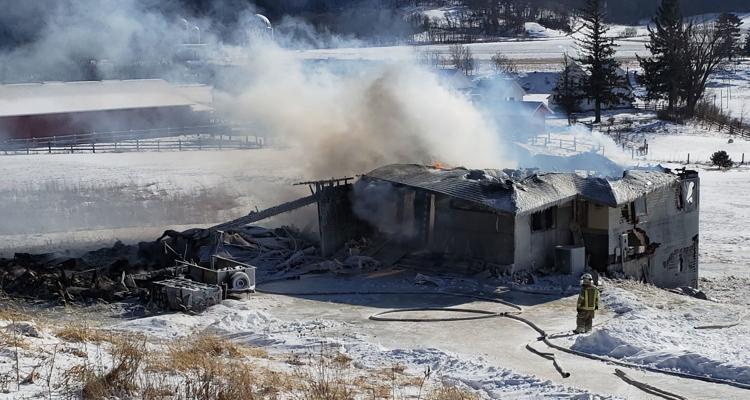 A rural Chaseburg home was destroyed by fire in the early morning hours of Friday, Feb. 8.
Coon Valley Fire Chief Russ Cornford and Vernon County Sheriff John B. Spears report that at 2:48 a.m., the Vernon County 911 Dispatch Center received a 911 call reporting a house fire at S1428 Ernies Lane, rural Chaseburg.
Jamie R. Lunde, 43, and Jennifer L. Hanson, 35, were both home with their two children at the time of the fire. All four occupants, along with the family dog, were able to get of the house safely. Seven local fire departments were dispatched to the fire. Units were on scene for more than nine hours battling frigid wind chill temperatures as low as minus 40. The structure was less than a year old and is considered a complete loss. The cause of the fire remains under investigation.
Agencies assisting the Coon Valley Fire Department on scene included the Westby Fire Department, Viroqua Fire Department, Genoa Fire Department, Stoddard Fire Department, Cashton Fire Department, Shelby Fire Department, Gundersen Tri-State Ambulance, Vernon County Highway Department, Vernon County Sheriff's Office, Vernon County Emergency Management, Coon Valley Public Works Department and the American Red Cross.