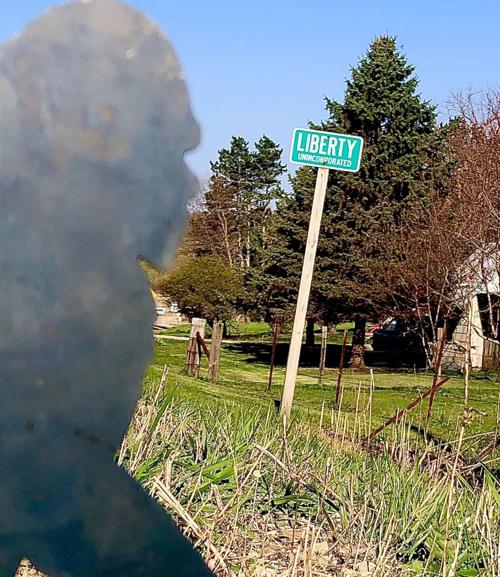 Vern here. So, what's happening with you these days? Oh, you want to know how I am? Really? That's nice of you ask. There are so many nice humans in Vernon County. Well, I've been taking time to think about the important things in life lately. You know a good place to think? The Town of Liberty. It's between Viroqua and Viola on Hwy. 56. There are some other good paths that lead to Liberty, like County Road SS or County Road S and yes, I've been on them all. I have even walked the west fork of Kickapoo River to get to Liberty. Now, don't you even think about confusing Liberty with Liberty Pole! I usually wander around those parts on Tuesdays and Sundays, so that will be another story.
Did you know that the Town of Liberty was once part of the Viroqua township, but the homesteaders early on wanted it to be its own thing? It's true! They got a group of people to sign a paper and then went to the County Board and made it happen. You know, it's kind of my thing to do my own thing, so I think the folks of Liberty and I are more alike than one may think.
It's always been a small town but it did have a post office at one time. It even had a saw mill and a flour mill. These days, there are about 200 residents made up of farmers, homesteaders, retirees, vacationers, and working-class families. The kids usually attend the Kickapoo or Viroqua schools, or the kids don't go at all depending if they are home schooled, unschooled or there is a world-wide pandemic. Either way, I think the kids are learning something somehow someway. Who am I to judge? I'm a Sasquatch for Pete's sake! I pretty much learned everything I know by just walking around looking at stuff. Here's a fun fact: Liberty was the original location of the one-room school house, the Foreaker School, which was built in 1888 for $395. Vernon County later purchased it and had it moved to its present location on West Broadway in Viroqua. It's now used as a way to connect the history to the present.
I see a lot of people fishing for trout and hunting whitetail around here. You think your camouflage clothing works, but I can still smell you. Can you smell me? Good! I've been working hard on perfecting my signature spring fragrance. It's a custom blend of mud and dead fish with just a hint of pine sap. I'll be sure to let you know when I get it bottled and it hits the market. In the meantime, you could check out the famous Liberty Bar. It's a good place hear a story, grab a pizza and a cold one. Maybe someday I'll be brave enough to stop by and share one of my stories with you, who knows?
Christina Dollhausen, Vernon County's economic development coordinator, will be sharing with Vernon County View readers the adventures of Vernon S. Quatch.