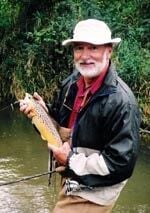 Those of you who have been reading about global warming know it is here to stay. In an article I wrote for my second book on trout fishing, after the 2007 flash flood, I wrote. "You will not have to wait for a hundred years for another flood of this severity. With higher global air temperatures and more water available for evaporation, from melting ice caps, the next flood could happen anytime, even next year."
Yes, we all remember the flood of 2008 which closed roads, washed away bridges, and destroyed homes. And, now in three years, 2016, 2017, and 2018, we have had three 100-year floods. What is happening you wonder? Ninety-five percent of the scientists have predicted global warming is on the increase. We should be listening to them, and we should be electing into office, to lead out country, people who believe man is the cause of the earth heating up and the result of more rain in our region.
The principal of global warming is that man has been using too many carbon emitting fuels, principally coal, and creating a large umbrella, with carbon dioxide, over the earth. And, that umbrella is causing less heat to be admitted into the atmosphere and escaping into space. Now, for at least 50 years, the earth has been warming too fast. And warm air holds more moisture.
Dr. James Hansen, wrote a book titled, "Storms of My Grandchildren." That I believe everyone who is elected to lead this country should read. On page three he wrote, "Coal burning at power plants is the greatest source of increasing atmospheric carbon dioxide. It is also the source most susceptible to control." With natural gas now being cheaper to burn than coal at our power plants, many of the plants have been changing over to natural gas. And, if our government, would simple rule out coal as a fuel we would be making a good decision for our planet.
But natural gas also causes a carbon footprint, so we need to consider using more electricity provided from wind towers, solar energy, and dams which are carbon free. The United States has thousands of dams that do not produce electricity. They are waiting to provide clean energy at a lower cost, with less risk, and in a shorter timeframe than development of new dam construction.
Climate change presents challenges to communities and governments. If our planet is going to succeed in removing the umbrella, holding heat in, all nations must be involved.
Greg Dihlmann-Matzer, is an attorney in Illinois, and a 2005 graduate of La Crosse Central High School. He wrote an article for the La Crosse Tribune which was on the Opinion Page on Sept. 25, 2016. He Wrote, "As water gets warmer, it expands. Additionally, rising temperatures have melted some of the world's glaciers and ice sheets, dumping water into the oceans. Sea level has risen more than one-tenth of an inch per year during the past 20 years."
"Over the next century, the global sea level could rise by up to 6.5 feet, and the rise could be even bigger along the Gulf Coast and Eastern Seaboard. In this case, substantial portions of cities such as New York and Miami would be below sea level, and New Orleans would be almost entirely flooded if its levees broke. The United States would have to devote substantial resources to either relocate residents or build dikes and levees to prevent some of its major cities from going underwater."
It was recently reported, on the TV business channel, that homes in Miami that are on the coast are losing value. And, in our area, homes that have recently lost a bridge on a trout stream are losing value.
My son, Dan Thurston, who works with the Illinois Geological Society, can bring up on his computer the island of Greenland. Dan recently told me, "With each summer month I notice a change in the ice on Greenland – it is slowly leaving Greenland."
From Storms of My Grandchildren, Dr. Hanson wrote, "If ice sheets begin to disintegrate, there will not be a new stable sea level on any foreseeable time scale. Instead, we will have created a situation with continual change, with intermittent calamities at thousands of cities around the world."
What does all this have to do with trout fishing? Recently, at Farmer's Market, I have had many questions about trout surviving a flash flood. I keep a record of every trout that I catch. And recently, after a flash flood, I caught 62 trout and only one trout had any marks on its skin. So trout do survive the flood. When the water rises and goes over the bank the trout also go over the bank. And, then when the water comes back into the stream the trout return to where they were before the flood.
After the flash flood the trout have a clear spawning bed to lay their eggs in. The flood moved all the debris away from the rocks, so most of the trout will hatch out, and we will have another good year of trout fishing. Most flash floods occur during the summer months.
The next question is. Why the summer months?
The young trout of the year that hatched out near the end of February, or in early March, are big enough to survive the flood. If the flash flood came in April or May a lot of the little trout would not survive. And, most of our flash floods come in June to August when we have big thunderstorms.
Jay Ford Thurston is the Broadcaster's trout fishing columnist. He can be contacted at trout@mwt.net.
Be the first to know
Get local news delivered to your inbox!