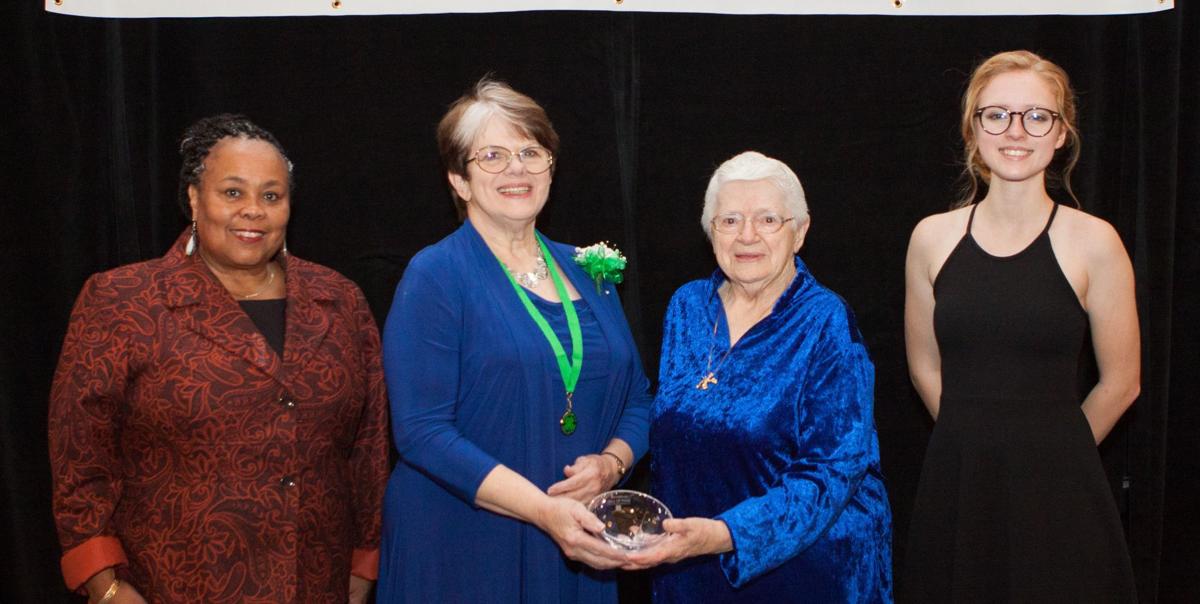 Kenosha and Vernon County 4-H Pioneer Helen Augusta Hornby was inducted into the Wisconsin 4-H Hall of Fame during a ceremony at Green Lake Conference Center on Nov. 2.
"We see the impact your volunteer service makes today and are encouraged to think how 4-H youth will shape the families, communities, and our world," says Dondieneita Fleary-Simmons, Wisconsin 4-H Program Manager. "We know that bright futures are more possible because of all you do. We cannot thank you enough for Making if Happen!"
Helen Hornby embodied the ideals of 4-H through her life. As a young child, Helen was the first 4-H member to do seed trials for Wood County. This was the beginning of her lifelong involvement in 4-H. Recognizing the value of 4-H to a community, Helen was instrumental in working with Extension staff in 1944 to form Kenosha County's first city 4-H club. Urban 4-H clubs are now found throughout the 4-H Program. Beyond family participation, Helen became a 4-H leader and advocate to ensure that all children, regardless of limitations or life circumstances could learn and grow through 4-H Youth Development.
Throughout Helen's 4-H career, she exemplified leadership in organizing activities, empowering volunteers, and sparking enthusiasm in Kenosha County, Vernon County, and beyond. She had a variety of leadership roles in 4-H focusing on the educational impact 4-H had at all levels. No matter what her role, she was concerned about providing a meaningful 4-H experience for youth.
Helen recognized the challenging job of the 4-H Agent and worked hard to support them. The 4-H agents she worked with valued the perspective, experience, and ideas Helen shared as well as her willingness to "focus forward" as new programming initiatives were introduced. She was instrumental in getting volunteers involved to ensure a sustainable 4-H program for the future.
Her service extends well beyond 4-H in that she was also active in church, civic, county, and state volunteer activities, always trying "to make the best better." 4-H shaped Helen's life as she whole heartedly lived the 4-H pledge, along with her family. She worked to think clearly, be loyal, serve others, and make her world a better place.
Two of Helen's daughters shared in her honor a newspaper article that said the following about Helen, "she raised seven children of her own and hundreds more that belonged to her 4-H family." Helen's contributions to her community as a volunteer was chosen as part of a mural and those that knew her recognized that Helen epitomized the values of 4-H.
The Wisconsin 4-H Hall of Fame was established to recognize 4-H volunteers, financial supporters, staff and pioneers who made major contributions to the 4-H movement at the local, state and national levels. The candidates represent 4-H in the broadest sense – people who had an impact on the lives of children, their community or state through significant contributions of time, energy or financial resources to 4-H and its members.