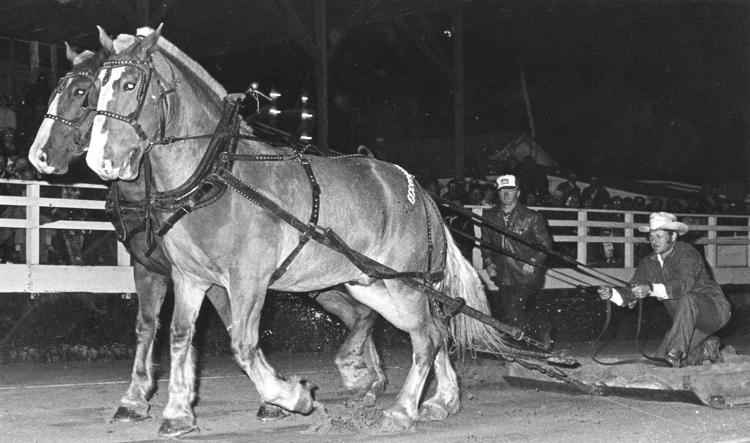 Horse pulling is once again going to be part of the Vernon County Fair. The horse pull will take place in front of the grandstand, Saturday, Sept. 14, at 10:30 a.m.
Paul Larsen, who is in charge of organizing the pull, said the Vernon County Agricultural Society Board of Directors decided to bring it back after a 30-plus year hiatus.
"They wanted to bring it back to offer something new," he said.
Larsen, who grew up in Denmark, Wisconsin, would come to the Vernon County Fair to pull with his grandfather. "It was on Friday night for the longest time." In addition to his grandfather, Larsen's father also pulled; his brother still competes in horse pulls. Larsen said he started hooking the horses when he was 12 or 13 years old.
When he moved to Vernon County 39 years ago, Larsen would help hook horses during the fair's pull. He has been part of the Viola Horse and Colt Show horse pulling contest since 1987.
Larsen said there will be two classes – middleweight, which includes teams under 3,200 pounds, and heavyweight, which includes teams over 3,200 pounds. Larsen isn't sure how many teams will participate in the fair's pull; however, he said a horse pull typically includes six to 10 teams per class.
Area pullers, he said, may include Jeff Kreuger of La Farge, Bryan Havlik of Ontario, Chuck Souchek of Chaseburg and Lawrence Anderson of Bangor.
Teams of horses pull what is called a stoneboat, a type of sled (sledge) for moving heavy objects. The official length of a pull is 27 ½ feet. Larsen said each team gets three chances to "cross the load." If a team crosses the pull, more weight is added to the stoneboat. The winner is the team that can pull the most weight for a short distance. Drivers ride the stoneboat and not the horses.
Larsen said that in the state of Wisconsin, whipping of the horses is not allowed and there are random drug tests given to the horses to make sure performance enhancing drugs are not used.
Teamsters, Larsen said, participate in horse pulling for the love of the sport and the animals. It takes teamwork, he said, for both horses to start a pull at the same time. He added teamsters work with their horses several times a week.
"Like any athlete, the horses have their good days and their bad days," he said.
Teams pull for purses; first prize at the Vernon County Fair horse pull is $200.