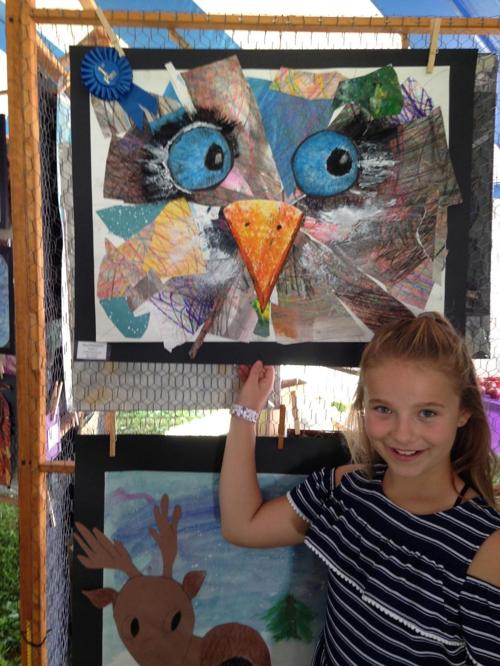 Paintings by three elementary school students will be featured in a live auction during the 15th annual Driftless Area Art Festival, Sept. 21-22 in Soldiers Grove. The paintings were selected by professional artists during the 2018 festival. The proceeds of the auction will go to the art programs in the young artists schools.
Several hundred young artists from across the Driftless region display their work each year in the Youth Art tent. Since 2010, auction of the three blue-ribbon winners has raised a total of $11,860 for school art programs. The auction takes place during the Saturday evening reception for artists, donors and festival volunteers.
Also that night, the yearly drawing held since 2014 will include all schools participating during the 2019 Festival's KidsArt Gallery.
The 2018 Winning school, Norwalk-Ontario-Wilton School District, received $500 to go specifically to support the art program there, raising the total of funds raised in the drawings to $2,500. Teachers can contact Jane Holzhauer, 608—872-2345, for last-minute details.
This year's blue-ribbon winning paintings were by Auden Slaght and Abigail Kurszewski, students at Stoddard Elementary School, and Heaven Ottersen, student at Kickapoo Elementary School.
The Youth Art tent houses elementary school works in the KidsArt Gallery, as well as works by older students in the Teen Art Gallery. In addition to the art exhibit, the Youth Art tent houses an activity center, bustling with busy creativity the entire weekend. Kids can paint piggy banks and mini pumpkins, create their own drawings and paintings, and enjoy being decorated by face painters.
And while the Youth Art tent attracts kids and their families, festival-goers can also visit the booths of 80 professional artists, be entertained by four groups of musical artists, and enjoy the food and beverages offered by 10 culinary artists.
Everything takes place in the Beauford T. Anderson park in Soldiers Grove. House are 10 a.m. to 5 p.m. Saturday, Sept. 21, and 10 a.m. to 4 p.m. on Sunday. Admission is free and there's ample convenient parking. Full details are at dirftlessareaartfestival.com and on Facebook.