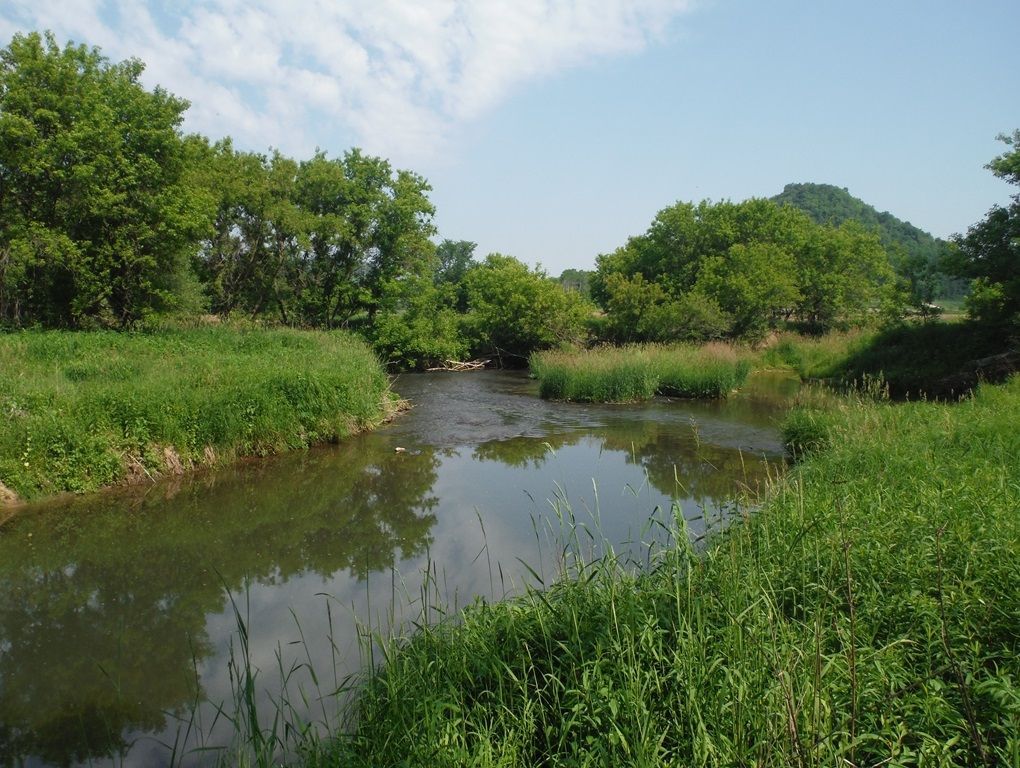 Improving water quality in the Kickapoo River and adjacent watersheds by working with voluntary landowners is the purpose of a grant to Mississippi Valley Conservancy from the Minnesota-based McKnight Foundation, according to Carol Abrahamzon, MVC executive director.
The La Crosse-based land trust and its partners, the Kickapoo Grazing Initiative, the Wallace Center Pasture Project and Valley Stewardship Network, will work closely with county soil and water conservation districts, UW-Extension, NRCS and Trout Unlimited to reach out to landowners with working lands throughout the watershed.
The Kickapoo River was prioritized due to the presence of phosphorous, mercury, nitrogen and sediment; an estimated 31,811 tons of soil runoff enters the Kickapoo River every year. An outreach effort in 2014-2015 has shown interest outside the Kickapoo drainage, therefore the project has been expanded to include Coon Creek, the Bad Axe and other adjacent watersheds.
The effort is part of the McKnight Foundation's Mississippi River Program designed to reduce agricultural pollution, protect floodplains and wetlands, and improve the water quality of the Mississippi River and its tributaries. More intense rain storms are part of the predicted effects of climate change, thus increasing the threat of erosion. Sediment carries with it both nitrogen and phosphorous pollution that ultimately contributes to the dead zone in the Gulf of Mexico.
Abrahamzon said the $100,000 grant, spread over two years, would enable Mississippi Valley Conservancy and project partners to work one-on-one with landowners throughout the watershed. This initiative will provide free guidance to landowners, including whole farm planning, managed grazing plans, economic assessment of grazing systems, strategies for regional development of farm markets, recommendations for funding through farm bill programs, species and habitat inventory, site assessments, income tax incentives, and permanent land protection opportunities.
According to Megen Kabele, MVC conservation specialist, the project will include the development of demonstration sites to showcase conservation practices and the resulting soil and water quality benefits; restoration techniques; and also demonstrate the economic benefits conservation practices.
The McKnight Foundation has been providing grant funds to MVC since 2006. The foundation, seeks to improve the quality of life for present and future generations through grant making, collaboration, and encouragement of strategic policy reform. Founded in 1953, the Minnesota-based family foundation has assets of approximately $2 billion and granted $86 million in 2013. Program priorities include restoring the water quality and resilience of the Mississippi River.
Landowners interested in learning more about the project, interested in scheduling a site visit for a habitat inventory, or discuss conservation practices should contact Megen Kabele at Mississippi Valley Conservancy at 608-784-3606, Extension 7 or Megen@MississippiValleyConservancy.org
Be the first to know
Get local news delivered to your inbox!