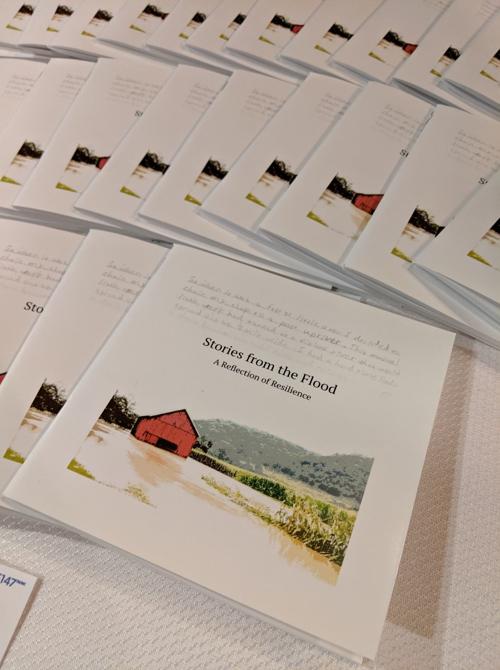 Stories from the Flood, a project to gather and preserve stories from those who survived the area's devastating 2018 flooding, has been awarded support from the Nuzum Fund. The fund, also known as the Kickapoo Valley Reforestation Fund, was established through a bequest by Ralph Nuzum, a longtime businessman and resident of the Kickapoo Valley. Held by the College of Agricultural and Life Sciences at the University of Wisconsin-Madison, the fund offers money to projects that enhance the ecological, economic, and social well-being of Kickapoo Valley residents.
The grant awards University of Wisconsin-Madison researchers Eric Booth and Caroline Gottschalk Druschke $45,000 over two years for their work in the Driftless region. Booth and Druschke are studying the effects of frequent and severe flooding on stream health, stream restoration practices, and the lives of those who live near waterways. For part of this work, they're teaming up with the Driftless Writing Center, which initiated the Stories from the Flood project.
Stories from the Flood, now in its second year, aims to contribute to healing, preserve history, and help plan for the future. "It's through storytelling and projects like this that we are really weaving people back together in a community," said Gil Hoel, LCSW and project advisor.
Since 2007, the Kickapoo River and Coon Creek watersheds have experienced seven devastating floods, and residents expect more. "We just really need to be ready to meet the future fearlessly. Which is hard, but if we're going to survive this and move ahead, we have to be ready. Because the flooding is not going to go away," said project participant Cele Wolf of Soldiers Grove.
Volunteers working with the Driftless Writing Center, including University of Wisconsin-Madison and University of Wisconsin-La Crosse students, have already collected about 100 personal narratives from flood survivors. Their goal is to double that number in the coming year. A significant portion of the Nuzum Fund grant will cover the costs of transcribing these stories. Transcripts will be kept in archives at the Vernon County Historical Society and UW-La Crosse's Murphy Library, where historians and members of the public can access them. In addition, the grant will help researchers identify common themes that arose in stories, leading to recommendations for public officials and other policymakers.
"Stories from the Flood has done so much important work to help watershed residents process their experiences of catastrophic flooding," Druschke said. "This award from the Kickapoo Valley Reforestation Fund will help us continue that work, while adding a more deliberate focus on serving as a resource for community members, planners, and policymakers in the Kickapoo River and Coon Creek watersheds as we plan together for our shared future."
Other Stories from the Flood partners include the Winding Rivers Library System, Southwest Wisconsin Library System, Vernon County Historical Society, Couleecap, and the Wisconsin Humanities Council.
More information about the project, including a digital booklet of excerpts from narratives collected so far, is available online at wisconsinfloodstories.org.