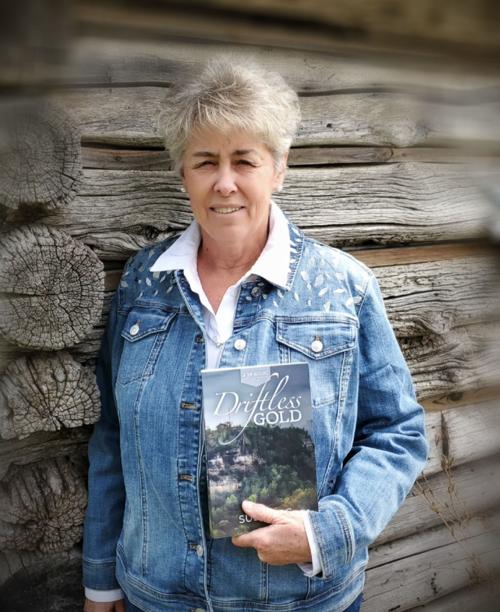 Sue Berg of rural Westby has a love for the beauty of the Driftless Area and a love of mystery novels. Those two loves have come together for her first detective mystery called "Driftless Gold."
Released on April 22, the Jim Higgins Driftless Mystery novel is the first in a series of six. The series takes place in and around La Crosse, during the current time. The second book in the series will be released in December of this year.
According to the "Driftless Gold" synopsis on Berg's website, "Down a Drifless Road,": "When a migrant worker is discovered partially buried in a shallow grave at a local gravel quarry, Lt. Jim Higgins is called to the scene. But things heat up when an antique gold coin in found in the dead man's pocket. Lt. Jim Higgins begins to unravel a murder that will take him back into Wisconsin's early history. During the investigation, Higgins meets a local archeological savant and treasure hunter who tells him a wild tale about a U.S. Army payroll that was stolen on the way to Fort Crawford in Prairie du Chien in 1866. The payroll has never been recovered. Is the coin on the dead man part of the stolen cache of valuable coins? Higgins hesitates to base his investigation on a wild tale, but he has nothing else to go on. In a race against time, Higgins struggles to identify the killer—and find the elusive gold treasure."
Five years ago, Berg retired from a career in teaching. For a year after she retired, Berg said she talked with her husband, Alan, about her idea for a detective series set in the Driftless Area numerous times. After hearing her talk about it so much, her husband said, "When are you going to do it?"
At about the same time, Berg said she discovered the book, "Shut Up and Write!" by Judy Bridges, the founder of RedBird Studio in Milwaukee.
"The book changed my life," Berg said. "She says, 'What are you waiting for? Write.' I sat down the next day and started to write. Writing is a lot of work. After a while you know the way to do it and (develop) your own style and routine."
Berg said she tried to weave in Wisconsin history, "It's not necessarily true." In the 1990s, when Berg was pursuing her master's degree she was in Murphy Library at the University of Wisconsin-La Crosse when she happened across a story about a lost gold shipment.
"It became a legend and that was the impetus for the book," she said. "The legend from the 1860s is woven into this story."
"Jim Higgins is with the Sheriff's Office and has a crew of three young, green detectives," Berg said. "Another character is a savant archeologist… He gets himself into a bad situation. It adds to the flavor"
Berg said the second book is a standalone novel, but will have the same detective team. "It will show how they change and how life changes."
She said all of the books in the series take place in the Driftless Area. The stories are based in La Crosse, but the team goes to Coon Valley, Westby, Viroqua and Trempealeau. "They get out into the countryside," Berg said.
Berg isn't new to writing. In 2011 she wrote a family memoir, "Solid Roots and Strong Wings." The book is the story of her grandparents' emigrating from Germany, her parents and how they grew up.
"It's a hodge-podge of family lore and Mom's recipes; it was more for family. This book is a regular novel," she said.
The book is published by Little Creek Press, and the cover of the first book is a photo of Grandad Bluff taken by Phil Addis of La Crosse. "He has the most fabulous Driftless photography," Berg said.
She came across Addis' work after typing "images La Crosse Wisconsin," in the Google search engine. Berg connected with him about using that image on the cover. She said she probably will use his images on future covers.
"It makes sense to have a cover with an image from the Driftless Area," Berg said. "I'm so happy with the cover."
She said writing the book has been an interesting ride. "I appreciate everyone's support."
Berg's novel is available locally at Viroqua Public Market, Dregne's Scandinavian Gifts in Westby, Pearl Street Books in La Crosse, and online at Barnes & Noble and Amazon. The novel is also available from the author, @bergsue@hotmail.com.