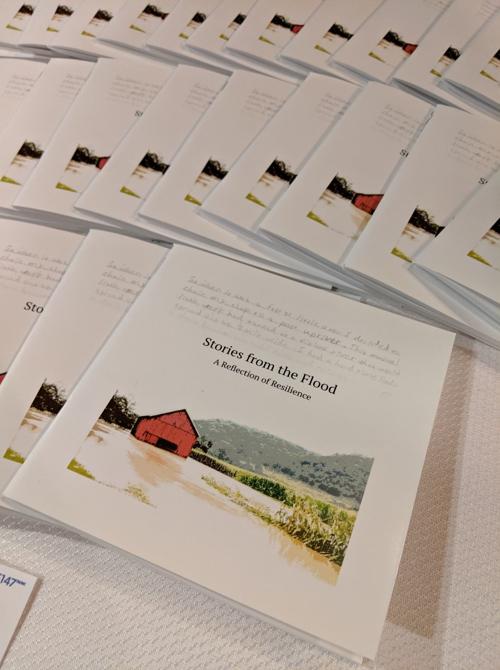 Over 100 people attended the "Stories from the Flood" event at the Kickapoo Valley Reserve Visitor Center last Thursday hosted by the Driftless Writing Center (DWC). While the Stories from the Flood project continues, DWC wanted to honor individuals who contributed stories and mark a significant milestone.
Those in attendance viewed a video produced by former journalist Tim Hundt that depicted scenes from the catastrophic floods of August and September 2018. Local historian Brad Steinmetz and UW-Madison professor Dr. Caroline Gottschalk-Druschke talked about the history of flooding in our area and the current status of the watersheds. Everyone received a copy of a booklet that contains narrative excerpts from stories that have been shared so far. Several people who contributed stories attended Thursday's event, and a few recounted their stories for the group gathered. Others were moved to share their own experiences.
Since April, volunteers have collected over 70 stories in written, audio, and video form. DWC and its partners intend to continue until they reach a goal of at least 200 stories. These stories will be housed in archives at the Vernon County Historical Society and at UW-La Crosse's Murphy Library.
DWC's board members say they wanted to collect these stories after witnessing the devastation in the Coon Creek and Kickapoo River watersheds while working alongside counselors from Project Recovery. That organization stepped up to provide assistance to those impacted by the historic 2018 flooding.
"We wanted to do something that went beyond cleanup with mops and shovels," said DWC board member Tamara Dean. "We wanted to use the power of therapeutic writing and storytelling to help people deal the long-term trauma of events like this. And we wanted to drive policymakers and media to look at this area that has been devastated every couple of years by what we are told are 100- or 500-year floods."
DWC received initial support for the project through a grant from the Wisconsin Humanities Council. Other partners include the Southwest Wisconsin Library System, Winding Rivers Library System, Vernon County Historical Society, Project Recovery, Couleecap, Inc., University of Wisconsin-Madison, University of Wisconsin-La Crosse, and local businesses.
Volunteers say they have found listening to people's tales of surviving the floods inspirational. "Some of these stories are about the trauma from a natural disaster but they are also about resiliency, hope, community, and finding a path forward," said DWC board member Lisa Henner. "It's amazing that in the midst of all the destruction, nearly every story was positive in some way."
The discussion at last Thursday's event quickly turned to the current status of the watersheds and how to adjust to the "new normal." This type of community conversation was exactly what DWC board members had hoped would result from sharing stories. While one aim was to foster healing, DWC also wants to help find solutions to the changed conditions everyone is living with and adjusting to.
"Throughout these watersheds, people and communities are being squeezed by a no-win situation," said Hundt who spoke at the event. "They are tired, and many are realizing that FEMA aid will only go so far and will not do them any good if we do not find a way to either get them out of harm's way or rebuild the infrastructure to new standards that they can trust will protect them from the more frequent and violent events that everyone knows are going to keep happening."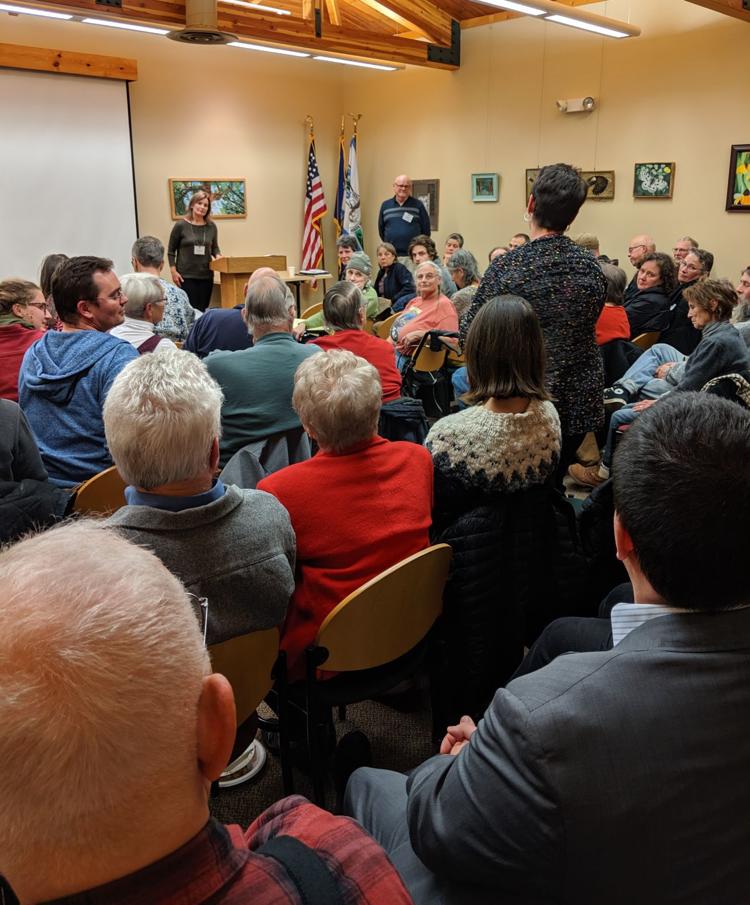 The Stories from the Flood project will continue into 2020. Anyone interested in contributing can do so by visiting wisconsinfloodstories.org online or contacting the Driftless Writing Center at 608-492-1669.