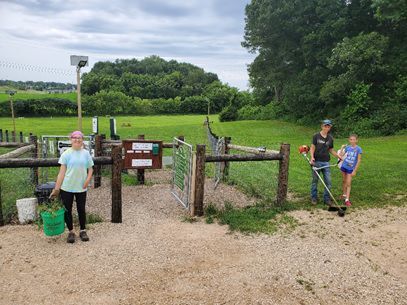 Part of the 4-H pledge is "I pledge my hands to larger service." Essentially this is a promise to look beyond yourself and use your abilities to assist others through volunteerism and service learning. Since leadership within UW-Madison is allowing small groups to meet, we have been busy arranging opportunities for our youth to serve others.
Our youth leadership group learned about several entities in Vernon County that regularly need volunteers, such as Community Hunger Solutions, and several specific situations, like the West Fork Sportsman's Club that still need disaster help after flooding. After considering all the options, the youth voted to spend several hours doing basic maintenance at the Viroqua Bark Park. They dug thistles, trimmed a few fences, sanitized facilities, and emptied trash cans. The park provided plenty of space to spread out and get to work, and I was impressed by their consistency and commitment to the task at hand. We all enjoyed the experience and the youth are working on choosing another entity to volunteer for.
In addition to helping the Bark Park, our families teamed together to provide a unique and special experience for residents at Vernon Manor. Earlier in the year, they performed musical and vocal pieces via Zoom. Activity director Nichole Krenzke and I put our heads together and came up with a program called Baked Goods Pals.
Residents filled out a form that asked youth to bake them a specific request, and then share a memory with the youth about baking that they had. Forms were distributed to families and the youth were asked to write a letter back and share a picture that would accompany what they had baked. While completing the forms and also tasting the baked goods, residents had wonderful reminiscing sessions, talked about the impact that 4-H had on their lives as youngsters, and absolutely relished tasting the goods. Several families chose to adopt several of their residents as pen pals and continue to write letters back and forth. The residents are choosing their top five baked goods and will award them to the youth bakers. While their awards are generous, the discussions and camaraderie built while doing this outreach activity has been irreplaceable.
In addition to service learning, youth will be doing 4-H camp virtually through our camp in a box program. The theme is "Under the Stars," and they will be building rockets, having a virtual camp fire and star gazing program, making star themed crafts, and much more.
Our 4-H year is coming to a close and we will be signing up and starting our 2020-21 year beginning in October. If you are interested in joining 4-H, please give our office a call. While we are not meeting face-to-face at this time, both our county office and our leaders have been busy offering programming and meeting virtually. If you would like to get a taste of what 4-H has to offer, please feel free to explore our virtual learning academy: https://4h.extension.wisc.edu/virtual-learning-community/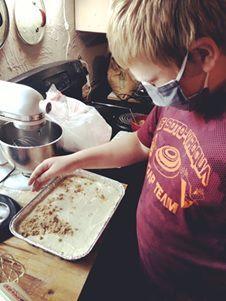 Be the first to know
Get local news delivered to your inbox!