The Vernon County American Legion held its annual awards banquet at the Stoddard American Legion, Feb. 23. In attendance were representatives from many of the Legion posts, District 7 Legion Riders, De Soto School District, Bergen Township, Stoddard-Bergen Fire Department, and Vernon County Sheriff's Department.
Five awards were presented by Stoddard American Legion's Commander Terry Levendoski and Vernon County Commander Kevin Bluske. These included Stoddard American Legion's Professional Provider of the Year, Vernon County Teacher of the Year, Edward J. Ormsby Law and Order Award, Vernon County First Responder of the Year, and Vernon County Firefighter of the Year. This year's master of ceremonies was Jose Manuel Leon, Jr.
Kimberly J. Bohenkamp
The Stoddard American Legion/De Soto School District Professional Provider of the Year Awardee is Kimberly J. Bohenkamp.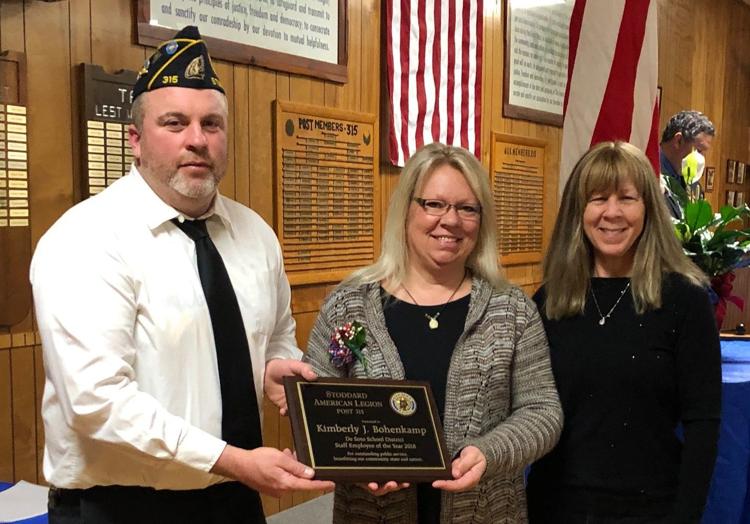 The application of this nominee started by describing her as Caring, Kind, helpful and supportive. Although her primary function is that of administrative duties in the office, her reach far extends that. From administering medications, to handling first aid to making sure the children have coats, her reach is far and wide. Children have healthy snacks because of her. Children are assured to board the right bus and safe from bad weather because of her. She is the right-hand person to the principal. She is also active outside of the school. It was her idea to add food bags to supplement the annual Christmas Giving Tree gifts. This was greatly appreciated by all families. She also participates in community functions and events, joining her husband, a local musician who performs at many area fund raisers. Finally, she is watchful of the community elderly insuring they have the food and the assistance they need especially with yard work and snow shoveling. This year's Professional Provider of the Year is none other than the affectionately known "De Soto School Mom," Mrs. Kim Bohnenkamp.
Hillary A. Bark
The Vernon County Teacher of the Year Awardee is Hillary A. Bark.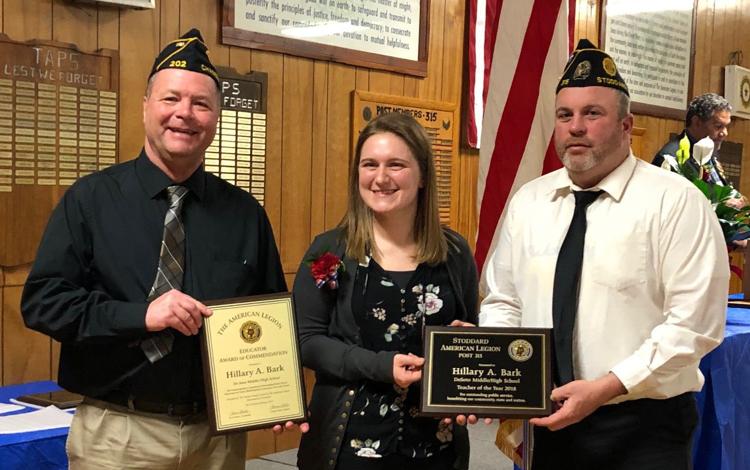 All the educators and staff at De Soto are all talented and dedicated individuals. Today we honor one of them. The recipient of this year's teacher of the year carries and eclectic as well as noble resume. Her interests include, Future Farmers of America, marketing De Soto Honey and conducting annual Community plant and fruit sales, quality professional career development as well as annual summer JAG lake environmental and leadership training. She serves as a middle school girls basketball coach and provides event staff support for middle and high school volleyball games. Her education is nothing short of impressive. She holds a Bachelor of Science in animal science from the University of Wisconsin-Platteville, a master's of agriculture in agricultural extension from Colorado State University and course work for her Teaching License from EduCate WI.
Eric R. Tollackson
The Edward J. Ormsby Law and Order awardee is Eric R. Tollackson.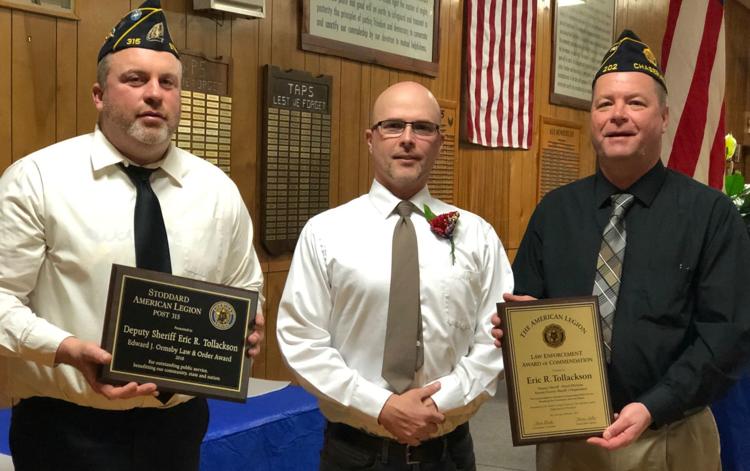 It is common knowledge that law enforcement benefits and vital to us all. The dedicated men and women who wear that badge give their all to keep us safe and protected. Without law enforcement, our society would be nothing short of anarchy. We can all take pride in knowing that there are those folks who face the many challenges in our society for our well-being. Our nominee for the law and order award exemplifies all that and more. He began his career as a part-time employee at the Vernon County Sheriff's Office in the jail and dispatch division. A challenging position to say the least. Shortly after he decided to take a brief intermission to later return again as a part-time employee then later a full-time deputy sheriff. His degree in police science from Western Technical College gives him the skills and knowledge he needs to take on this job. One of his heroic acts just last year, he answered the call to help a young mother in labor in La Farge. He delivered that baby before the ambulance arrived. This act, as well as his role as humane officer helping keep animals safe, has earned the respect and admiration of his fellow officers and his chain of command.
Angela A. Pfaff
The Vernon County First Responder of the Year awardee is Angela A. Pfaff.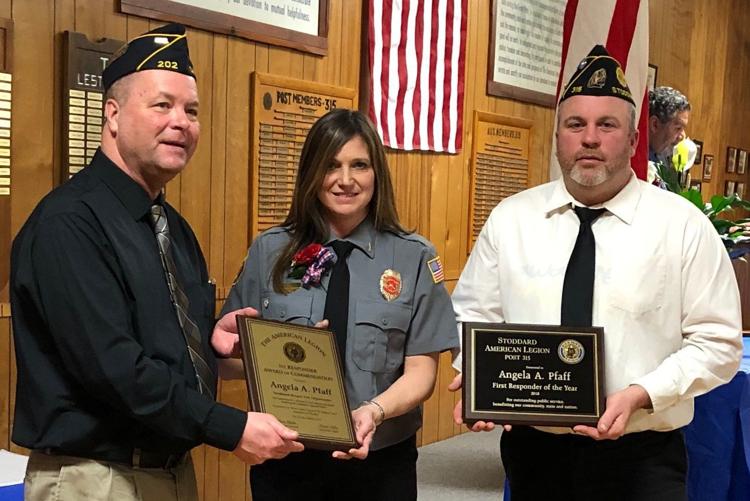 First responders, especially volunteers, have been the backbone of safety in our communities for many years. From the tragic events of 9/11 and tragedies like Sandy Hook, first responders have always been there to ensure our safety and save lives. Without the heroic work of First Responders, many lives would be lost. This nominee is no exception. She makes herself available day and night for the safety of this community. As successful entrepreneur, she owns and operates the Kids at Play Child Center here in Stoddard. Educated with a degree in early childhood education from Western Technical College, she has the tools needed for the job. Her first responder training includes: First responder training, entry level firefighter training, certified firefighter one, and emergency vehicle operations and control class. She has also completed Basic Life Support (CPR) Instructor training, Emergency Services Instructor training, and health seminars, and is always willing to share her knowledge with others. Finally, she has attended training for children car seats safety inspections and has conducted inspections.
Joshua A. Kuhse
The Vernon County Firefighter of the Year awardee is Joshua A. Kuhse.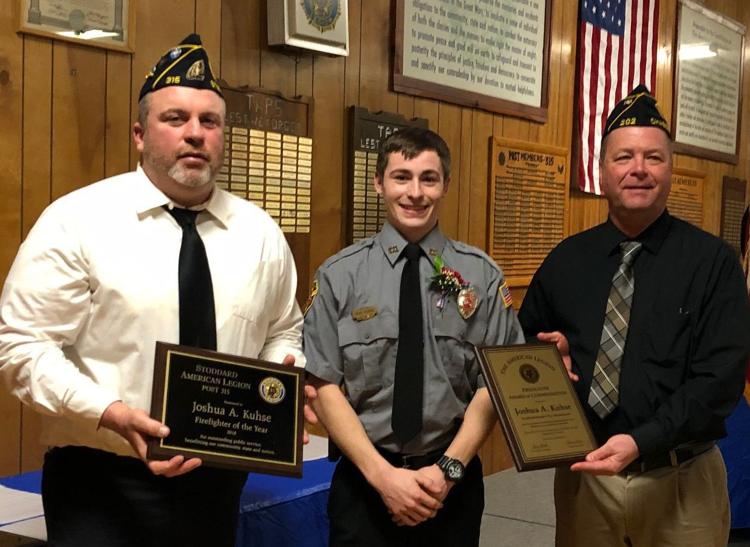 Like all first responders, firefighters are true selfless heroes. They are available to put their lives on the line to help others every day. The history of the firefighter began in ancient Rome while under the rule of Augustus in the 3rd century. Prior to that, there is evidence of fire-fighting in Ancient Egypt. The first Roman fire brigade was created by Marcus Licinius Crassus. He took advantage of the fact that Rome had no firefighters. This nominee upholds that tradition today. Some of the most impressive aspects of this nominee are his amazing and many accomplishments in such a short period of time. At just 21 year of age, he has completed EMT Certification, Entry Level Firefighter A and B, Firefighter 1/Hazmat and operation of weapons of mass destruction, Fire Inspector 1, Engine Company Operations and Firefighter 2. He did all this, while holding down a fill-time job at Ace Distribution Center. He may get all his energy and motivation from the many sports activates he participated in while in school. He has earned the respect and admiration of his peers, his leadership and his team.
Jose Manuel Leon, Jr.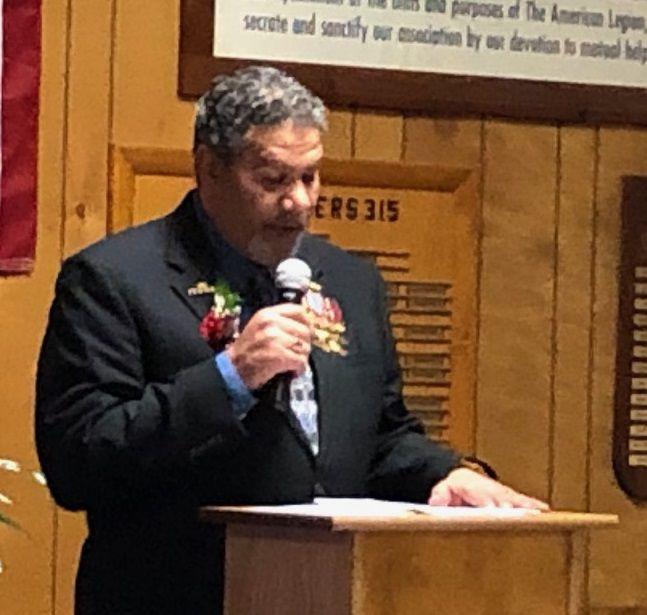 Leon enlisted in the Marines in the summer of 1982. He served 10 years with one combat tour in Saudi Arabia and three West Pacific tours before transferring to the Hawaii National Guard. In 2006, He retired from the Army at the rank of Sergeant First Class/E-7, after which, he served as a Senate Staffer for Sen. Herb Kohl. Following his service with the Senate, he was appointed Executive Assistant to the Secretary of the Wisconsin Department of Veterans Affairs. In 2013, he moved to the La Crosse area and currently continues to serve at the Social Security Administration. He is married to Jackie Harding-Helgeson, and they have four children and one grandson between them.