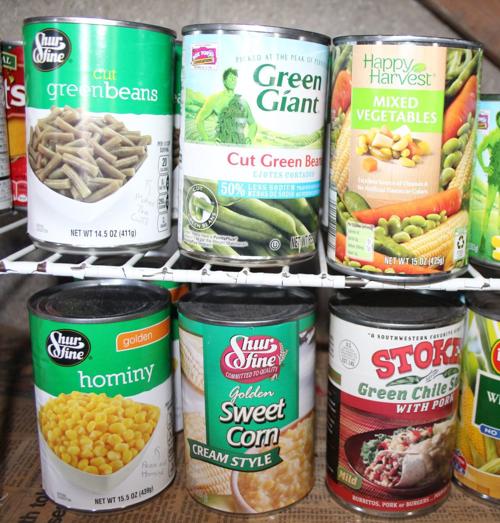 Even with the COVID-19 pandemic, food pantries are ready to offer a helping hand to those who are in need of food.
Bethel ButikkBethel Butikk, located at 341 Black River Ave., Westby, is still open, although the process of putting food together for families has changed.
"Normally, folks come, sign in, do paperwork and pick out food; it's more like a shopping experience," said Debbie Stout-Tewalt, CEO of Bethel Home and Services.
Stout-Tewalt said in order to be compliant with CDC guidelines, volunteers are pre-boxing food that corresponds to the number of people in a family. For example, if a there's a family of three, the person who is picking up the box fills out the paperwork and that person takes the corresponding box. She said patrons still have to meet certain guidelines to receive the food, but some of those guidelines have been relaxed.
Stout-Tewalt said Bethel Home and Services is concerned about their volunteers, so everyone is maintaining the 6-foot distance and families take the boxes of food to their own vehicles, rather than volunteers helping with that task.
"People still have access to the food they need, frozen food and fresh produce," Stout-Tewalt said. "We find there is still a need for people to come to the pantry."
In addition to the change in how food is distributed, the pantry's hours have been revised. The pantry is open Monday, Tuesday and Thursday from 10 a.m. to 1 p.m. and Tuesday from 4 to 6 p.m.
Stout-Tewalt said as of Tuesday, she hadn't heard of an increase in the pantry's use because of COVID-19, but that could change.
"At this point, the average number of people have come to the pantry," she said. "Who knows what next week will bring, as more people are off work without a regular paycheck."
Stout-Tewalt said she wants people to know they will have help and support.
If people need help from the pantry, they can call 634-3473. In case of an emergency, they can connect with Stout-Tewalt by calling the Bethel Home at 637-2171.
Stout-Tewalt said the Bethel Butikk Mission Committee is still meeting on Mondays to confidentially review applications of people who may need help with such things as paying rent or paying a fuel bill. The form can be picked up at Bethel Butikk or the Bethel Home in Viroqua. "We try to limit the number of times a person applies."
Stout-Tewalt said the best way for the community to help the food pantry right now is by sending monetary donations to Bethel Home and Services, 614 S. Rock Ave., Viroqua, WI 54665, with Bethel Butikk in the memo line, or sending it directly to Bethel Butikk, 341 Black River Ave., Westby, WI 54667.
Food PantryThe Kickapoo Area Food Pantry, which serves residents of the Kickapoo Area School District that require help meeting adequate food needs, is maintaining its regular hours.
The pantry, which is located at the Viola Municipal Building, 106 W. Wisconsin St., is open the third Saturday of the month from 9 to 11 a.m. and the following Monday from 4 to 6 p.m.
The pantry was open March 21 and 23, and only volunteers were allowed inside because of COVID-19, said pantry co-director, Diana Forkash. She said most of the volunteers are older, so they couldn't help with the food distribution.
"We got some younger volunteers who took over and they did a fantastic job," Forkash said.
Forkash said boxes filled with food that were labeled with names and the number of people in each family were placed in the vehicles. "People stayed in their cars," she said. "It worked well from what I hear."
She said about the same numbers of families – between 30 to 40 – came to the pantry this month.
Anyone who needs help may call the Viola United Methodist Church (the United Methodist Women sponsor the pantry) at 637-1910, Forkash at 627-1979 or co-director Annie Blakley at 627-1416.
Forkash said the best way to support the pantry during this time is to donate money. Checks can be sent to the Viola United Methodist Church, P.O. Box 145, Viola, WI 54664.
Living Faith Food PantryThe Living Faith Food Pantry, located at 209 Sands Road (behind Family Restaurant) in Viroqua is now operating as a drive through (there is no access to the building) because of COVID-19, according to the pantry's website.
Currently, there is only a Monday distribution from 1 to 3 p.m. All foods are bagged or boxed by household size for immediate pick-up. The Monday distribution now handles dried, canned, cooler, and frozen food items.
Food PantryThe Stoddard Food Pantry, which is located in the basement of St. Matthew's Lutheran Church, 300 West St., Stoddard, has suspended its service.
Paulette Ross, who the site manager and a member of St. Matthew's, said they are following Gov. Tony Evers' order and staying at home. She said once the "safer at home" order is lifted, the pantry will reopen.
Be the first to know
Get local news delivered to your inbox!