A century ago on Nov. 9,
1918, a representative of the American Red Cross wrote a letter to Miss Jane Butt of Viroqua, accepting her as a Nurses' Aid for one year. She was instructed to travel to New York City to join a group of aids, and then they would sail for France. Their work would be related to the war relief efforts, but the specific assignment was unknown, and they would have to be flexible: "May I urge that you accept conditions without comment or criticism and make every effort to adapt yourself cheerfully to the environment."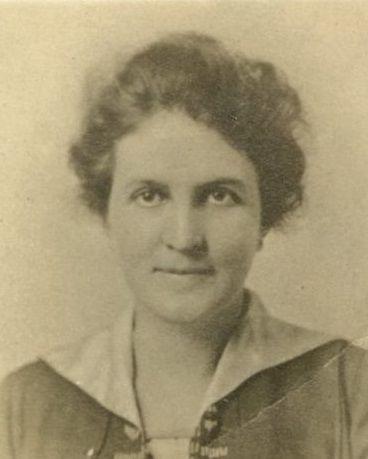 Many young women joined the Red Cross during World War I, expecting to help care for soldiers wounded in battle. But Jane, the daughter of Civil War Col. Cyrus Butt, wasn't very young – she was 46 – and the war was over by the time she received the letter, because the armistice was signed on Nov. 11. It was wonderful news that the terrible war was over, but it also must have been a little deflating for the new Red Cross recruits, as they didn't know if they would even be needed anymore.
Jane set out for this great adventure anyway. In New York, she purchased her official Red Cross uniform; the most expensive item on the list was a grey Oxford suit at $36. (She could also buy a Red-Cross-approved heavy wool long-sleeved corset cover.) Her group arrived in England on Dec. 7, and stayed there for nearly three weeks, because no one knew what to do with fresh nurses' aids now that the war was over. Jane wrote to her family that "There is really no work for us to do and many workers are going back home. However if something turns up that is worthwhile I shall go to it." Something did turn up, and shortly after Christmas, she was sent to France.
Miss Jane Butt had no experience in nursing. She was an actress, and had spent years teaching elocution and touring with acting companies. But she did have experience doing war work, because in January of 1918, she had taken a clerical position with the Army Ordnance in Washington, D.C., and worked there until joining the Red Cross. And fortunately, once in France, she was not asked to be a nurse, but instead to work as a librarian and hostess at an American Officers' Club in Paris.
The purpose of the club was to provide officers with "wholesome" entertainment, to keep them out of trouble and occupied with worthwhile activities, now that the fighting was over and they were waiting to go back home. Jane chaperoned dances and theatre groups and sight-seeing excursions all around Paris, visiting "Versailles, where the peace treaty will be signed," and the Louvre, which was "in course of housecleaning. You see they took all their treasures out of Paris" to protect them during the war. She wrote home, "I'm destined to be frivolous instead of social service I begin to think…."
The museum is fortunate to have some of the letters that Jane wrote to her family during this time, and they are interesting reading, full of her forthright opinions and her clear descriptions of England and France as they were 100 years ago. You are welcome to visit the museum to look at our collection of World War I-era letters during our current hours of Tuesdays, Wednesdays and Thursdays, noon-4 p.m.