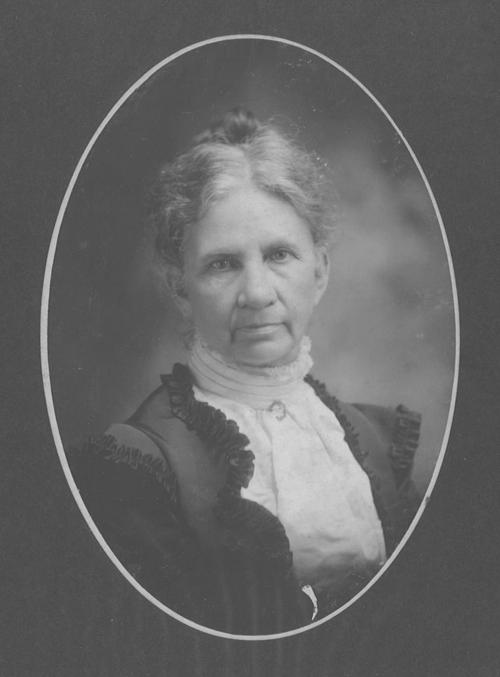 In celebration of the 150th birthday of the Sherry-Butt House, we are featuring brief biographies of the people who lived in the home. The house is located at 795 N. Main St. in Viroqua, and is owned and operated as a museum by the Vernon County Historical Society.
This week we feature Margaret (Mc Auley) Butt, wife of Cyrus M. Butt. Col. and Mrs. Butt built their home in Viroqua in 1870.
Margaret was born in Indiana in 1836, one of 13 children born to William and Jane (Megee) Mc Auley. Their family moved to Grant County, which was then a part of Iowa, and owned 240 acres near Lancaster. In 1854 they moved to the town of Utica, Crawford County, near Mt. Sterling.
In 1864, during the Civil War, Margaret married Cyrus M. Butt of Viroqua, a young attorney and a first lieutenant in Company A of the 25th Wisconsin Volunteers. Margaret gave birth to their first child, Esther, in 1868. Their son William Edward, known as Tom, was born in 1870, before the family moved into their new home.
Margaret raised three more children in this home: Jane, also known as Jennie, born in 1872; Cyrus M. Junior, born in 1874; and Margaret Elizabeth, known as Beth, in 1878.
Mrs. Butt was described in her obituary as "a good wife and mother and a splendid neighbor, ever generous and kind and especially ready to help the unfortunate poor and needy, and her many deeds of kindness will be remembered by many in the community in which she was so long an honored member and ever friend."
According to her obituary, Mrs. Butt suffered from epilepsy and nervous and mental trouble. She was ill for approximately two weeks before her passing at the age of 78 in 1913. Her funeral was held from the home and she was laid to rest in the Viroqua Cemetery.
Learn more about Margaret Butt and all the other past residents of this gracious historic home by visiting the site for a tour. The Sherry-Butt House is open to visitors on summer Saturdays and Sundays from 1 to 5 p.m., Memorial Day weekend through Labor Day weekend. Admission is $5, and children under age 9 are free.
Be the first to know
Get local news delivered to your inbox!