April is Child Abuse and Neglect Prevention Month, and the Vernon County Department of Human Services has brought awareness to the community by hosting pinwheel events in the county.
The Department of Human Services placed 130 blue pinwheels at four locations – the ball fields in Stoddard off of Hwy. 35, the department's location on Fairlane Drive in Viroqua, the corner of Decker and Main streets in Viroqua, and the Hillsboro High School entrance road off of Hwy. 33.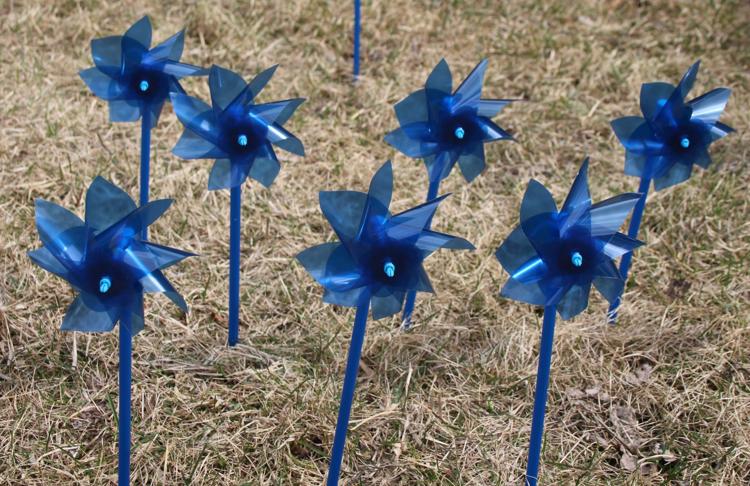 The 130 pinwheels represent the number of child abuse/neglect reports the department received in 2018 that met the state's criteria to conduct an investigation with the goal of ensuring safety for children and offering services to families. The 130 reports consisted of:
54 reports of physical abuse
54 reports of neglect
12 reports of sexual abuse
9 reports of emotional damage
1 report of unborn child abuse
On the afternoon of Friday, April 5 a group of 15 people, which included Department of Human Services' staff, Viroqua City Hall staff, Viroqua City Council members and community members, came to the corner of Decker and Main streets in Viroqua to "plant" pinwheels.
Theresa Berger, a social worker with the Department of Human Services, said it was the first time Vernon County has had pinwheel events.
"The pinwheel is the symbol of the month," she said. "Each pinwheel represents the reports we investigated (in 2018). They don't represent each child, they represent each household."
Berger said sometimes people believe Vernon County is without the issues of child abuse/neglect of a larger community. She said the pinwheel events help people be aware child abuse is an issue.
"We need to do something as a community to stop child abuse and offer services to ensure it doesn't happen," Berger said.
Community members can support one another.
"If you see a parent struggling and stressed, offer help," Berger said. "In Vernon County we do a lot of prevention work."
Berger said prevention work the Department of Human Services offers includes such things as providing respite care, educating parents on how to discipline children, and connecting parents with day care and rental assistance programs.
"It's important to keep children safe," Berger said. "They deserve to feel and be safe."