Law enforcement officers from throughout Vernon County and members of the public gathered on the lawn of the Sheriff's Office for the Vernon County Law Enforcement Memorial Service, Tuesday morning.
The service opened with the presentation of flags and a welcome by Chaplain Donald Ehler and Sheriff John Spears.
Ehler said there are more than 900,000 sworn law enforcement officers now serving in the United States, and 1.16 million violent crimes occur annually.
"Since the first known line-of-duty death in 1786, more than 23,718 officers have died in the line of duty," Ehlers said.
So far this year, Ehlers said, 41 officers have lost their lives, one of whom was from Wisconsin.
Spears read the names of the 2018-19 recently fallen officers from Wisconsin – Officer Charles G. Irvine, 23, Milwaukee Police Department, who died June 7, 2018; Officer Michael J. Michalski, 52, Milwaukee Police Department, who died July 25, 2018; Officer Matthew J. Rittner, 35, Milwaukee Police Department, who died Feb. 6; and Officer Katherine J. "Katie" Barrios, 44, of the Middleton Police Department, who died April 25.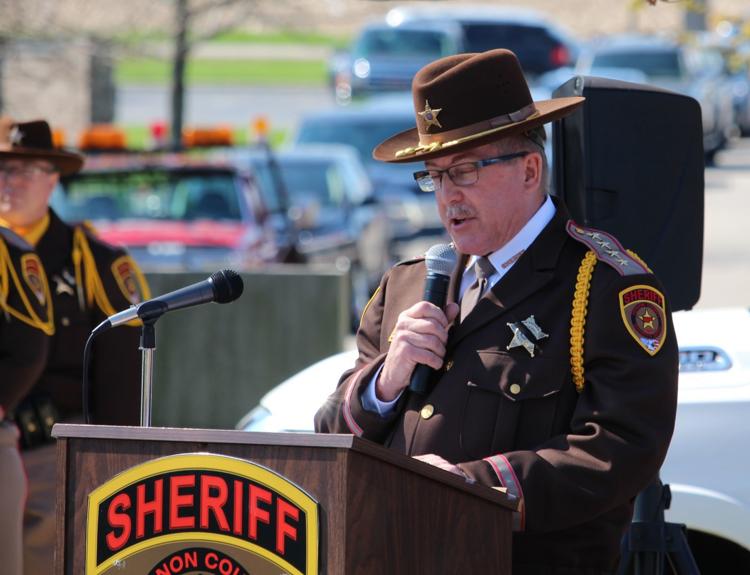 Spears said there were 28 K-9 line-of-duty deaths in 2018, none of which were from Wisconsin.
Spears also remembered the three fallen officers from Vernon County – Officer Curtis Starry of the Viroqua Police Department who was killed March 13, 1953; Chief Michael G. Cook of the Viola Police Department who was killed Nov. 24, 1976; and Deputy Sheriff Bobbie W. Dickson of the Vernon County Sheriff's Office, who was killed Aug. 8, 1986.
Viroqua Mayor Karen Mischel was the guest speaker, and she talked about the meaning of honor and how that applies to law enforcement officers.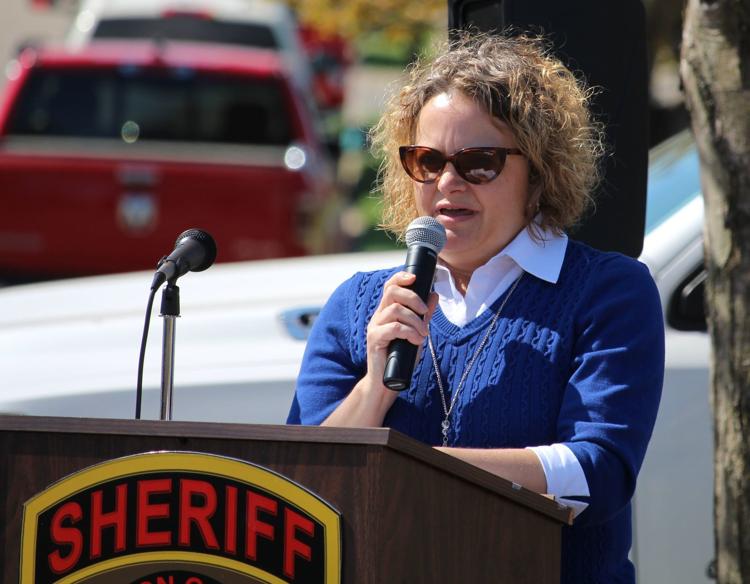 Mischel said officers have a deep, abiding love for the community – strangers and friends alike. "They would give their lives – it's an instinct, it's in their blood."
"I assure you, they serve with honor," Mischel said. "Their integrity should be supported."
Mischel said the men and women in law enforcement have a special trust in each other. "We should appreciate the bond they share."
The Vernon County Law Enforcement Memorial Service was held in conjunction with National Police Week, which is May 12-18. National Peace Officers Memorial Day was observed Wednesday in Washington, D.C. The Wisconsin Law Enforcement Memorial Ceremony was held at the state Capitol in Madison May 10.
In 1962, President John F. Kennedy signed public law 87-726 designating May 15 as a Peace Officers Memorial Day and the week in which May 15 falls as National Police Week. The law was amended by the Violent Crime Control and Law Enforcement Act of 1994, Public Law 103-322, signed by President Bill Clinton, directing that the flag of the United States be displayed at half-staff on all government buildings on May 15 each year. While the actual dates change from year to year, National Police Week is always the calendar week beginning on Sunday, which includes May 15.