Humans and their canine companions came to the Viroqua Bark Park for a leash-cutting ceremony Saturday morning.
Karen Mischel, a member of the Viroqua Bark Park Committee, said it took 14 to 15 months to make the off-leash dog park a reality.
"It wasn't just us as a committee," Mischel said. "It was a whole community coming together to make this possible."
Committee member Jaime Hendrickson expressed appreciation for Jim Ryan of Jim Ryan Fencing who built the fence and donated the labor. "He did it all himself, and had volunteer help at the end. Our heart goes out to him."
Linda Kica, the Driftless Humane Society representative on the committee, thanked the humane society's board for their help with the dog park project. She said the humane society was the umbrella organization for the funds. "(The dog park) will be way fun and great for the community."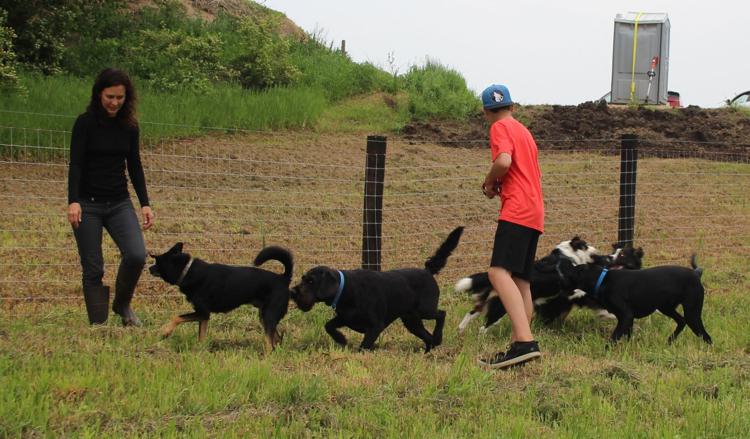 Committee member Gloriane Kabat Noble thanked all of the donors. "Every donation counts." Noble said the committee will continue fundraising for such things as agility equipment and trees for the park.
Committee member Shauna Anderson thanked the Viroqua Lions Club for sponsoring the park's grand opening event.
Lion Bob Jackson said the club was excited to be a sponsor of the event.
"We Lions have a simple motto – 'We Serve,'" Jackson said. "The dogs, they serve as well." Jackson said people can learn from dogs that no matter what happens, all is forgiven with a wag of the tail.
"We are proud to sponsor this (event) and further the quality of life in the community," he said.
Board member Dani Heisler said the idea for the dog park started about six years. She asked those who were part of that group to raise their hands. "Thank you for getting the ball rolling. It's exciting to see this to fruition."
Before the leash was cut, door prizes were presented to the biggest dog, smallest dog and to the people who came the farthest.

The dog park is located on Railroad Avenue, south of Hwy. BB/South Asbury Road by the county salt sheds. Viroqua Bark Park has a fully fenced area for off-leash dogs, double-gated entrances, and separate small dog and big dog areas.