The Viroqua Historic Warehouse District was dedicated and its sign unveiled, Friday, May 10. The sign is located along North East Avenue on the city's east side.
The four historic buildings in the district are the M.H. Bekkedal Leaf Tobacco Ware House, 504 E. Decker St., which was built in 1906; the Northern Wisconsin Co-operative Tobacco Pool Warehouse No. 2, 225 N. East Ave., which was built in 1945; the Fred Eckhart Leaf Tobacco Ware House, 518 Walnut St., which was built in 1906; and the Chicago Milwaukee & St. Paul depot, 305 Railroad Ave., which was built in 1904.
Gregory Splinter, chair of the Historic Preservation Commission, gave a brief history of each building, all of which are designated as Viroqua Historic Landmarks, and the warehouse district.
Splinter said the historic warehouse district designation was four or five years in the making. It was designated a city historic district in 2018. He said an 18-page document was prepared and presented to the Viroqua City Council for final approval.
"We thought it was worthy of a sign," Splinter said.
Commissioner Cyndy Hubbard, who helped compose the words for the sign, read the following from the sign's front: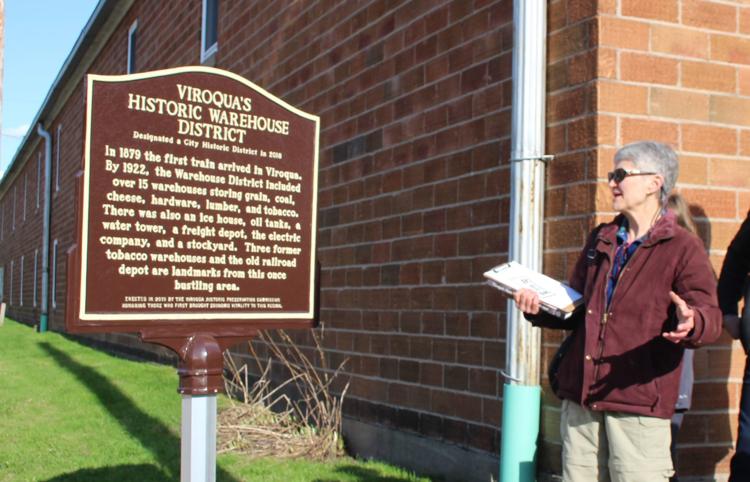 "In 1879 the first train arrived in Viroqua. By 1922, the Warehouse District included over 15 warehouses storing grain, coal, cheese, hardware, lumber, and tobacco. There was also an ice house, oil tanks, a water tower, a freight depot, the electric company, and a stockyard. Three former tobacco warehouses and the old railroad depot are landmarks from this once bustling area."
The back of the sign includes images of the four buildings and a map.
"There was a lot of activity going on here," Hubbard said.
Following the dedication and sign unveiling, there was a self-guided walking tour of the district and a reception at Driftless Books.