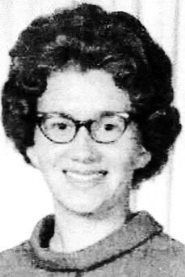 Alta Rae Barnes, 84, passed away Monday, Feb. 3, 2020, at Vernon Manor in Viroqua.
Alta Rae (Turner) Barnes was born Aug. 27, 1935, to Albert and Vinnie (Green) Turner, the town of Webster, Vernon County, Viola, Wis. She was the youngest of six children.
She attended Elk Run Elementary School and graduated from Viola High School in 1953. She spent the following summer working at Harnischfeger in Milwaukee. She and her friend, Roberta, went to see several of the Milwaukee Braves baseball games. It was the first year the Braves played in Milwaukee. She then returned home to attend Vernon County Normal School in Viroqua.
She was introduced to Lyall Barnes, by a mutual friend; they were married July 24, 1954, at the EUB (now Methodist) Church in Boaz, Wis. They had two daughters, Judy Rae and Amy Lorraine. Later, they had two grandsons, Patrick and Ethan, (Amy's sons). They lived 54 years on a small 54 acre farm in Sabin in Richland County, Wis. Alta enjoyed being in the "Sabin Handy Gals Homemakers Club." She was happy to live in a farming community. She was always concerned about the future for small farmers.
Lyall was a livestock hauler and dealer. Alta was his "Gal Friday." She enjoyed refinishing furniture and upholstery, working on home improvements, sewing and embroidery. Alta greatly appreciated animals and working in the garden and flowerbeds. In December of 2007, she and Lyall moved to a home in Viroqua and retired there.
Alta is survived by her husband, Lyall; two daughters, Judy (Dan) Kirchoff, French Island and Amy Little (Garry Bahr, fiance') St. Josephs Ridge; two grandsons, Patrick Little, Minneapolis and Ethan Little, Denver; and other relatives and friends.
She was preceded in death by her parents; four sisters, Verda (Edwin) Gray, Rockford, Ill., Coral (Robert) Chariton, Milwaukee, Lola (Edward) Holland, Rockford, Doris (John) Deal, Readstown and Viroqua; and one brother, Paul (Theo) Turner, Rockford.
Funeral services will be held at a later date at the Viola Cemetery.
The Vosseteig-Larson Funeral Home, 123 W. Decker, in Viroqua will be handling the arrangements, (608)637-2100.