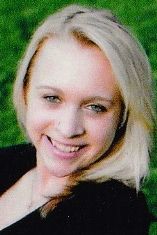 WORTHINGTON/NEW ULM, Minn. — Haley Ann Sanwick, 23, of Worthington, formally of New Ulm past away at her home in Worthington Sunday, May 10, 2020. Haley was born March 18, 1997, in Worthington, to Michael and Julie (Scudder) Sanwick.
She lived in Round Lake and attended the Round Lake and Worthington schools and graduated in 2015. She enjoyed dance as a child, volleyball and cheer-leading through her high school years. She lived in New Ulm, with her family 2016-2018 and returned to Worthington, where she met the light of her life, Robbie Barrie. They had a home on the edge of Worthington and they had two dogs she loved, Koda and Maverick. She worked at Bedford Industries Inc., in Worthington, for the last few years.
Haley was an incredible young lady, her soul sparkled with warmth, her smile was an ease that invited comfort. Her laugh, well you couldn't help but laugh with her. She was a loving, caring individual that was there for many. She wanted people to laugh and be happy, even when she could not see that for herself. She will be missed greatly by all who were touched by who she was and loved by many.
Haley is survived by her father, Michael of Hanska, Minn.; mother, Julie of Plover, Wis.; sister, Casey of Mankato, Minn.; and half-sister, Kyia Gibson of Kansas; significant other, Robbie Barrie of Worthington; stepmother, Lori (Roberts) Sanwick of Hanska; stepsisters, Nicole Hansen (significant other,, Lyle Thomson) of Bricelyn, Minn., Kenzie Stueber of Lewisville, Minn., Kayla Stueber of Minneapolis; and step-brother, Jacob Stueber (Autumn) of New Ulm; grandmothers, Beverly Sanwick of Viroqua, Beth Sanwick of Viroqua and Connie Kraus of Arkansas; grandfather, Stan Scudder (Rosenlyn) of Kansas; step-nephews, Colin, Kaden, Jackson, Kellan; step-nieces, Jemma and Riley. uncles and aunts; and several cousins.
She is preceded in death by her uncle, Jeff Sanwick; grandfather, Ole Sanwick; step-grandfather, Robert Kraus,
Due to current social constraints, a private family memorial service will be held. A celebration of life will be held at a later date.
To leave an online condolence for the family, or to sign the guestbook, please visit: www.mvfh.org.
Obituaries Newsletter
Sign up to get the most recent local obituaries delievered to your inbox.