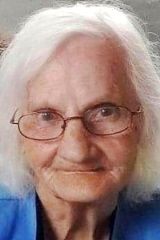 READSTOWN — Vivian I. Townsend, 88, of rural Readstown passed away peacefully Friday, July 24, 2020. She was born in the Wanless family home in Crawford County Jan. 19, 1932, to the late Glen and Nellie (Wanless) Phillips. She was a hard worker, an awesome cook and had a smile that could light up a room. Vivian never had a bad word to say about anybody and would do anything for anyone. She farmed on the family farm all her married life and raised her children. She loved cardinals and flowers, her favorite being pansies. In her later years, she found an interest in scratching off lottery tickets. Every now and then she got lucky with them. She made the best blackberry pie, wacky cake, fruit cocktail cake, homemade noodles, fried chicken, apple butter among other goodies. The major milestone in her grandchildren and great-grandchildren's memories was when they got measured every time they visited to see if they were taller than granny.
Survivors include her seven children, Connie (Mike) Rakovec of Loyal, Wis., Lonna (Gene) Rakovec of Greenwood, Wis., Glenda Townsend of Sparta, Tammy (Joel) Oppriecht of Sparta, Roseanna (Mike) Welsh of Readstown, Donny Townsend of Readstown, and Phillip Townsend of Readstown; 23 grandchildren; 46 great-grandchildren; nine great-great-grandchildren; two sisters, Betty (Willie) Crook and Gloria Glass; two sisters-in-law, Joyce Phillips and Mary Townsend; many nieces, nephews and friends.
Vivian was preceded in death by her husband of 60 years, Donald Townsend Sr.; her parents, Glen and Nellie (Wanless) Phillips Sr.; her siblings, Maxine Olson, Garnet Davenport, Keith Phillips, Ross Phillips, Glen Phillips Jr., Dale Phillips, and Bobbie Phillips; her daughter, Sharon Townsend; her son, Kevin Townsend; her daughter-in-law, Kathy (Miller) Townsend; her great-granddaughter, Logan Marie Welsh; her nieces, Bonnie Campbell and Margaret Townsend; and her nephews, Gary Olson, Rodney Davenport and David Phillips.
A funeral service was held at 2 p.m. Wednesday, July 29, at Vosseteig-Larson Funeral Home in Viroqua. Luke Kleiber officiated. Visitation was held from 4 p.m. until 8 p.m. Tuesday, July 28, at Vosseteig-Larson Funeral Home. Additional visitation was held from 1 p.m. until the time of the service Wednesday. Vivian was laid to rest in the Sylvan Cemetery.
Online condolences may be expressed at www.vossfh.com.
Vivian's family would like to thank Dr. David Chakoain and the staff members of Vernon Memorial Hospice for the care they provided.
Obituaries Newsletter
Sign up to get the most recent local obituaries delivered to your inbox.