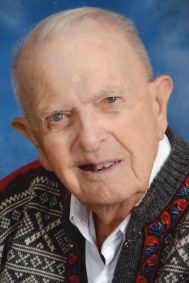 WESTBY — Wilmer E. Homstad, 98, lifelong resident of the Westby area quietly passed away Friday, Jan. 3, 2020, at the Bethel Home in Viroqua. He is survived by two sons, Keith (Torild) of Northfield, Minn. and their children, Hans of Minneapolis and his son, Haakon also of Minneapolis, and Maia also of Minneapolis, and Larry (Edwina Christie) of Westby, and Larry's son, Gregg (Sarah Mannes) of Yankton, S.D. and their children, Henry and Ellia; as well as the children of Christie and Larry, Emma (Samuel Lavang), of Cambridge, Mass., and Grace (Partner Jovan Radicevic) of Madison, Wis.
Wilmer was born May 31, 1921, on his family's farm in Christiania Township in Vernon County, Wis., the only son, and youngest child of William August Homstad and his wife, Emma (Christianson) Homstad who were the parents of Carol, Ruth and Naomi, all of whom have predeceased him. Early photos show him as a six foot tall, strapping, strong young man with a sunny smile and big hands. While yet in school he worked hauling milk cans with his future brother-in-law, Archie Sloane, soon to be the husband of Carol.
He belongs to the greatest generation that endured the full brunt of the Great Depression, as well as the burdens of World War II, and then built our country into the nation it is today. When he graduated from Cashton High School in 1938 he made the choice to enroll in the teacher preparation course at Vernon County Normal School. There he met and fell in love with his future wife and lifelong partner, Betty Marie Shreve. After graduation, they were married in 1942. Their marriage lasted until Betty died in August of 2014, 73 years later. Their teacher training brought immediate employment during the war, Wilmer continued in education as teacher, principal or elementary supervisor for 44 years until retirement. Betty took a break from teaching to be a full-time mother to their two sons, Keith (born in 1944) and Larry (born in 1948). After the boys were well launched in their school years, she returned to teaching in rural schools and later became an administrative assistant at Tri-State Breeders Co-op for some years as well as retail sales at the former Roehl's Department Store in Westby.
Wilmer Homstad will be long remembered for his advocacy for the most vulnerable and fragile among his pupils. He made countless trips to Madison to lobby with State of Wisconsin authorities for additional resources for students who had to deal with every sort of impediment and handicap. Wilmer also loved camping and being a Boy Scout Leader. He and his best friends, Vic Bakke and Ed Storbakken, were a team of adult leaders who raised a generation of boys that grew up and went on to leadership roles and fathers, teachers, business careers and community volunteers. Wilmer and Betty were long time members and active in Our Saviors Lutheran Church, Westby.
Wilmer loved teaching and used every professional tool in his kit of to impart to his students his own love of knowledge and learning about new things. His sixth and eighth grade class rooms were always filled with projects and experiments, maps and globes, aquariums and terrariums, plus a few giant hornet's nests and probably a couple of hamsters. They were a magic kingdom that prepared his students for success in high school and beyond.
In retirement, Wilmer and Betty were avid hobbyists, noted for their violin repairs, model circus wagons and Betty's doll houses. Wilmer was one of the founders and an active member of the Coulee Region Antique Engine Club.
Blessed be he for his devotion and love to his family and students. Thanks Dad we love you.
Funeral services for Wilmer will be at 2 p.m. Thursday, Jan. 9, at Our Saviors Lutheran Church in Westby. Pastor John Dumke will officiate with burial to follow the service at North Coon Prairie Cemetery, Newry, Wis. Friends may call during a visitation for one hour before the service, from 1 until 2 p.m. at the church.
In lieu of flowers or plants, memorials can be directed to Our Saviors Lutheran Church or to the Salvation Army.
The Vosseteig Funeral Home, 708 S. Main St. in Westby is serving the Family. (608) 634-2100.