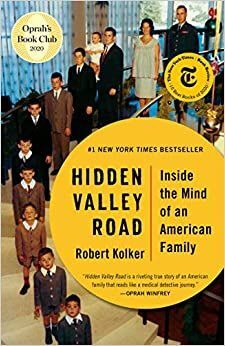 TITLE: "Hidden Valley Road"
The story takes place in Colorado Springs, Colorado. Don and Mimi Galvin had 12 children. (10 boys and two girls) When Don served in the Navy, Mimi was alone a lot with the kids. Often she felt over burdened, abandoned, and experienced painful losses in her life including her dad's death, a forced exile from Texas and a husband distanced from her. Despite that she was master of all aspects of her children's lives.
When Don taught at the Air Force Academy the children had the run of the place: pools, gyms, bowling alleys, golf course, and ice rinks! Sounds like a perfect life right? Don took over the falconry program and received falcons as gifts from Saudi Arabia and Japan. He became an "arm chair dad," referring to the boys by number not names. He had six affairs while married to Mimi and suffered from depression with panic attacks his entire life. Why did Mimi stay in the marriage? Was she forced to stay for the sake of her children?
What is schizophrenia? Is it inherited? Why would six of the 10 boys suffer from it and not the girls? Treating it was ineffective and inhuman in the '70s. Patients felt helpless, scared, anxious and frustrated. Why did this awful disease affect each boy differently? How did it affect the entire family? What treatments were available then? Donald spent most of his life in and out of facilities including state hospitals.
He was 17 when he knew something was wrong and happening to him but what? Often he acquired good jobs but couldn't keep them for long. Once while attending college he jumped into a bon fire. How badly was he burned? He was a risk to himself and to others! His marriage failed.
Jim was in college at Boulder, married, dropped out of college and when living at home with his siblings he sexually abused them. He died alone at age 53 in 2001.
Brian had his own band and followed Donald's behavior. Once the cops used tear gas at one of the concerts for more than 1000 fans attending and rioting!
Mike had many jail visits and arrests so was sent to live with an uncle in Florida and later sent to Brian's in California with hopes it would help him. He was in a mental hospital in 1973 and when he came out from there he killed his wife and took his own life.
Peter was 14 at the time this was all going on so he got more responsibilities and he became rebellious. He, like his siblings, was in treatment centers often. He had eight drugs at one time.
Matt was in and out of hospitals a lot and then sent to the Pueblo center where Donald spent most of his life. All the boys were well educated, married, and some had children of their own. Mimi as the devoted mother was always part of their lives no matter how bad things got.
Mary and Margaret were fortunate to live normal lives and have families of their own. Growing up was hard for them because of being abused by brother Jim. Mary changed her name to Lindsay. Why? Which one became the caretaker for the ailing mother who died at the age of ninety? Which sister checked on and visited their brothers in facilities? After their mother's funeral they cut off contact with one another for six months. Why?
This story is a testament to the entire Galvin family's generosity, candor, and faith that it can be helpful to others. Much detail was given to the treatment of schizophrenia at that time too which made for interesting reading of the horrible disease.
Becky Stakston is an avid reader from Westby.